Visual Artists at Spier Craft Market
By: Kit Heathcock (2017-02-17)
We have some gifted artists here at Spier Craft market, who spend time working on their next paintings at tables in the shade between the stalls. Here we talk to Zach Mukwira, who has exhibited widely including a solo exhibition in the United States, and Kuda Gavi who has experimented with Zach's unique layered paper technique and developed his own signature style.
Zach Mukwira
What inspires your work?
My paintings are inspired by the stories I heard from my people growing up, folk tales, myths, legends and stories of Africa that have been passed down the generations. I change them into paintings, visual art woven into everyday life situations, people I see around me in the streets and communities.
What techniques do you use?
I have two approaches for two different kinds of customers – some pieces are colourful canvases acrylics of people doing daily chores, washing, collecting firewood, children running. My exhibition pieces are more abstract and I use a technique that I evolved from my experience with print-making, using layers of paper and cut out patterns, then painted with oils, making them into one-off originals. I've been teaching this technique to other artists too.
How did you start painting?
I started back in 86-87 in Zimbabwe. As a child, I was the 'legs' for my uncle, Alexander Phiri, who was in a wheelchair, so I'd be taking him everywhere he went to his workplace and so on. He was a prominent disabled activist and chair of the National Council of the Disabled Persons of Zimbabwe. At the time OXFAM funded a programme to bring art therapy to disabled children as a vehicle for integration and communication. I was immediately absorbed into this programme and trained in various forms of art to work with the children with disabilities. This was my introduction to art and when the programme closed after four years, I kept on working as an artist and joined associations like the Visual Artists of Bulawayo, doing exhibitions and workshops.
What does Spier craft market mean to you?
I've been exhibiting since 2012 at Spier. I've learned a lot of things from Sue, rather than taking art as a hobby it has become my primary source of income. The interaction side helps the development of business – art is another way of employment. Working at Spier with Sue, it has put me on another level, made me look at what I do, it has given me another way of looking at life.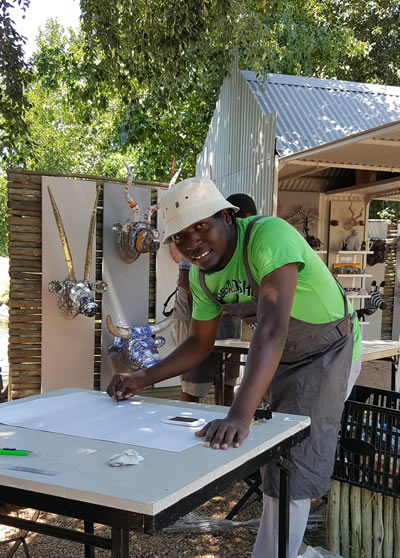 Kuda Gavi
Tell us about your painting?
This technique that I'm doing, I use a double layer of paper, then I cut out layers to make a pattern, then paint over using oil paints. I mostly paint wildlife – right now I'm currently doing some figures inspired by movement, my animals are also inspired by movement, showing the muscles. Most of my paintings are about movement, you can feel the muscles working. I also work with acrylics – bold colours portraying people and everyday life – I don't show faces, but use their body language to pass on the message.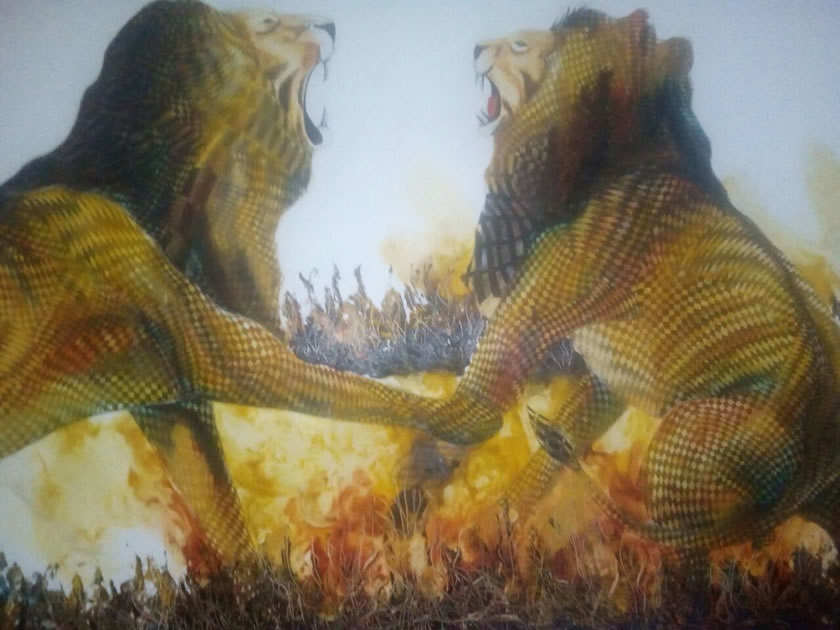 What does Spier craft market mean to you?
This is my second season at Spier. It's been an eye-opener. Before I started at Spier I rather looked down on wire work, but seeing the type of art that my colleagues at Spier are doing, the techniques that they are using, I've got so much respect for those guys now. I just love Gora's patching technique with different colours and materials on wire, it made a huge impact on me.
My sales have improved this season, I'm understanding the market and customers better, it's a growing process, I'm learning a lot. I look on Zach as a mentor, a father, he told me about Spier and I've learned so much from him.
See Zach and Kuda's work at Spier Craft Market on Spier Wine Estate, open daily from 10am-5.30pm.