The Craft Market at Spier, New Artists 2018: Ursula Korbe (Creative Lines)
By: Sue Heathcock (2019-02-22)
Ursula Korbe of Creative Lines up-cycles used packets made of foil and paper, (chips, chocolate, braai coal packets, coffee, take-away paper bags etc). With a creative burst of inspiration and little sewing machine wizardry, they become shopping bags, make-up bags, passport covers, cellphone covers and much more.
What's your background and how did you get started?
Creative Lines was established in 2013 when I returned to South Africa and settled in Cape Town. Ever since I came back to South Africa I have taken on an organic and environmentally friendly way of life and am always looking for ways to reduce waste. This combined with my long history of craft making/sewing was the perfect recipe and Creative Lines was born.
Tell us more about Creative Lines
It is a new craft business concentrating on the use of recycled materials. My goal is to create African-inspired crafts, mainly sewing items, to suit everybody. Integrity, professionalism and honesty are crucial for me. In every project my creativity keeps me thinking outside the box to produce unique limited-edition items. My love for vibrant colors, combined with the desire to give new purpose to recycled materials, brought "Creative Lines" to life.
What do you enjoy about working with recycled materials?
I give a second useful life to single purpose waste, for people to enjoy in their daily lives. From my big product range the ones I am most proud of is the backpack made with up-cycled denims and Braai coal packet, and the Sho-Bag made of hessian coffee bean bags and coffee foil packets.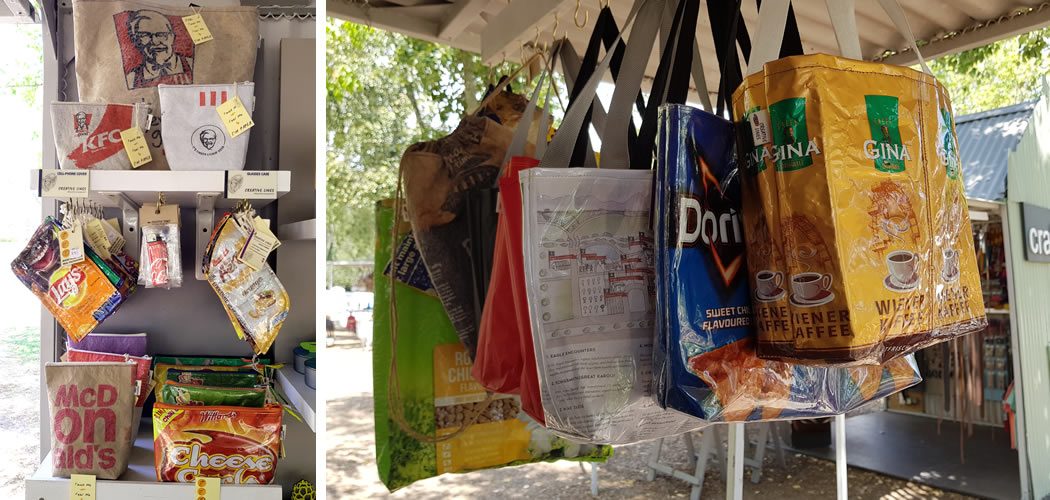 What do you look for when choosing items to repurpose?
Vibrant colors and funky designs, packets with the least damage in order for me to re-use it.
See Creative Lines' products for yourself at the Craft Market at Spier, open every day until the end of April at Spier Wine Farm.
https://www.facebook.com/CreativeLinesSouthAfrica
https://www.instagram.com/creative_lines_sa