The Craft Market at Spier, New Artists 2018: Samkelo Nyakambi
By: Sue Heathcock (2018-11-02)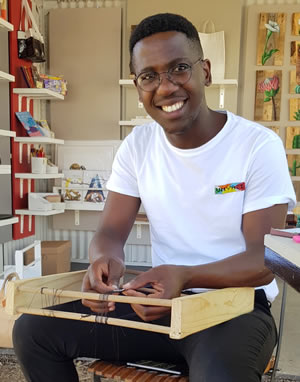 Samkelo is new to the Craft Market at Spier this year with his distinctive range of beaded watch straps using African patterns from specific African tribes. He tells us what inspired him.
"I'd studied IT and was working in the industry, coding, but it wasn't feeding my creativity. I found beading tutorials on YouTube and taught myself how to bead. I always knew that everyone can bead, but I wanted to set myself apart. The creativity came from asking myself 'How can I do this differently? Let me infuse a story into each beadwork.' I'm trying to change how the world looks at African culture by making these watchstraps.
"Each tribe in our culture has a specific pattern that they use traditionally. I study each tribe, and design each watch strap according to a tribe. I use certain coloured beads, as each colour has a meaning, so I mix the colours to tell a story. Each watch comes with its story printed out, telling the meaning of its colour and where it comes from. I also make some other creative contemporary patterns, like pacman and houses.
"I use a special string that doesn't break, and even if you sweat it doesn't leave a mark on your skin. Each watch takes about 4 hours of concentrated work to complete. I have to focus to get each row of the pattern I've designed correct.
"I'm aiming at making them 100% environmentally friendly. The beads are recycled glass, so it's just an eco-friendly watch face that I still need to source, I haven't found exactly what I'm looking for yet."
Some of Samkelo's watches were featured in the June 2018 issue of GQ, testament to the contemporary style factor of his designs.
To see more of Samkelo's watches, visit the Craft Market at Spier every day until the end of April from 10h00 to 17h30. On most Sundays you'll find him there, busy working on the loom making his next watchstrap.

Instagram @unyazi_designs