The Craft Market at Spier, New Artists 2018: Janette Anderson Glass Art
By: Sue Heathcock (2018-11-16)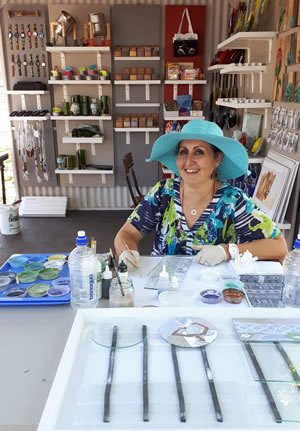 Janette Anderson creates bright, translucent glass plates and platters that sparkle in the sunlight, beautifully painted with a wide variety of designs: African animals, indigenous flowers, abstract patterns, uplifting messages. She tells us more about her functional glass art that uses the fusing and slumping process.
What inspires your designs?
Colour is usually my starting point, that is the thing that gives me a new idea. For instance I'll see the 'tomato' red and in my mind it turns into a protea. I love telling a little story – I might be inspired to do a Delft style with old buildings like a NG church. I use glass as a canvas, I'm an artist at heart, I enjoy the versatility of being able to draw something different every day. Glass has an appealing translucency about it, I always have to remind myself to leave some space unpainted so that you can still enjoy that quality.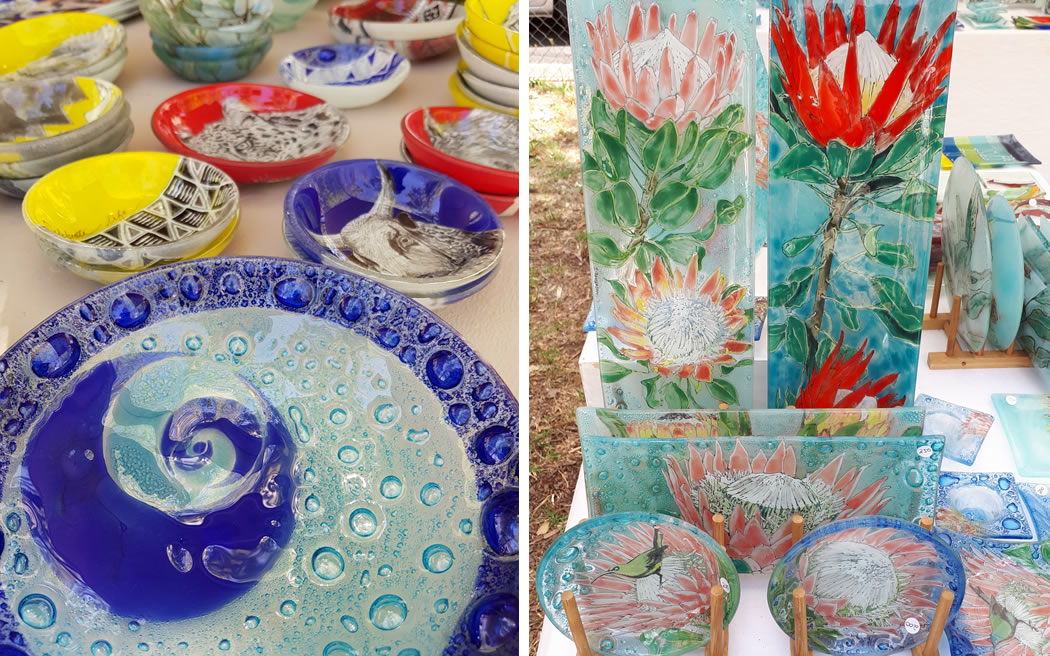 How did you get started?
As a child my first memories are of drawing, and I always dreamed of having my own studio, but I actually studied Economics and worked in a bank as a risk analyst for 15 years. I left that when my children went to school and started painting seriously, first watercolours then in oils.
It was when I was part of an exhibition that I met a lady who was doing glass, which caught my attention. The next year I met her again; she was thinking of selling up, and I ended up buying her business together with my sister. We went to her for three days and she taught us the techniques, then we spent the next six months learning by doing, and finding our own direction. We started with two kilns in 2009, and built up production until we had nine kilns by 2014. Eventually I sold out to my sister and she runs the factory, while I have gone back to having two kilns and doing my own work.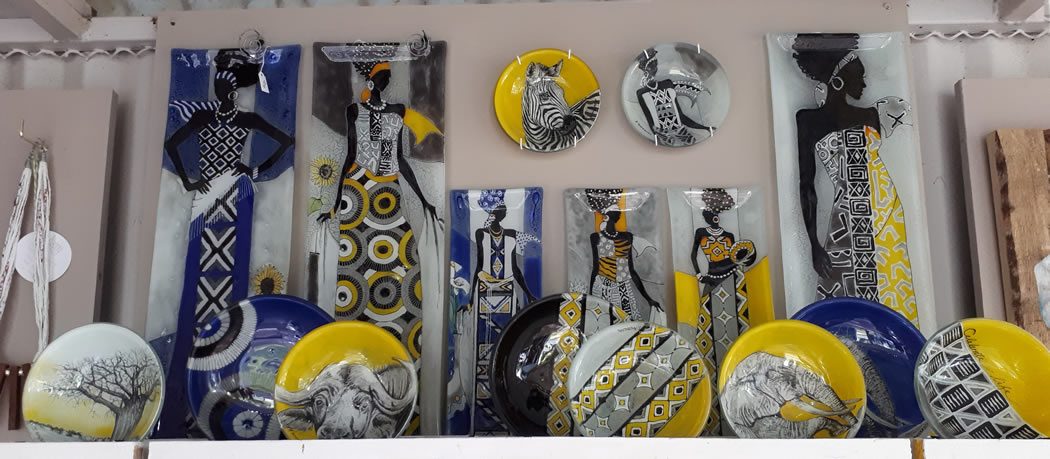 I'm more into the artist side, I like being able to paint something different every day, rather than manufacturing a line. The technical aspect to it suits the analytical side of me that first chose banking as a career. Glass can be hard work. You've got to work hard to fill up one kiln. But my childhood dream of having my own studio has come true, I really do enjoy what I do!
Visit the Craft Market at Spier to see Janette's glass art in all its colours and designs. Follow Janette on Instagram: anderson_janette