Craft Market at Spier, New Artists 2018-2019: Wendy Herdien of Starchild Inc.
By: Sue Heathcock (2019-03-19)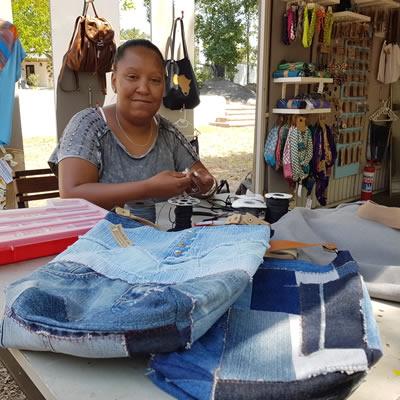 Wendy Herdien under the name Starchild Inc makes jewellery and a series of one-off bags made from upcycled denim jeans and patched with contrasting fabrics. Her Africa print bag is also a popular seller.
How did Starchild Inc get started?
I started Starchild Inc in 2012 officially. It was a way to supplement my income as I was working in the Waterfront at the time. I always knew that I wanted to do my own thing. When I was a kid I used to make doll clothing and gifts, I was very creative from a young age.
In 2012 with the recession my boss could no longer afford to employ me full time, so I was just doing three days a week. I started off making jewellery on my free days. Fashion design was my dream but all the materials, machines and space would cost way more, so I started with jewellery. I started small and then realised I had to step up my game. Eventually I was able to buy six sewing machines from a friend who unfortunately was selling up his business. I progressed onto making bags, clutch bags and pencil cases. I had to start making my own patterns and learning the techniques, I'm basically self-taught, thank goodness for Google and YouTube!
What inspired your signature line of patchwork bags?
I like quality goods. I went to a fabric shop and saw a box of remnants. There were some really good quality hard-wearing fabrics, beautiful prints and things, that I wanted to use for my bags. Some pieces were too small, so I started using them as patchwork. I like patches, combining different textures, denim, long-lasting, hard-wearing fabrics. I use old jeans, offcuts of upholstery fabrics from Hertex. This is where I started with upcycling. Patch bags, streetwear is my vibe. Denim is timeless.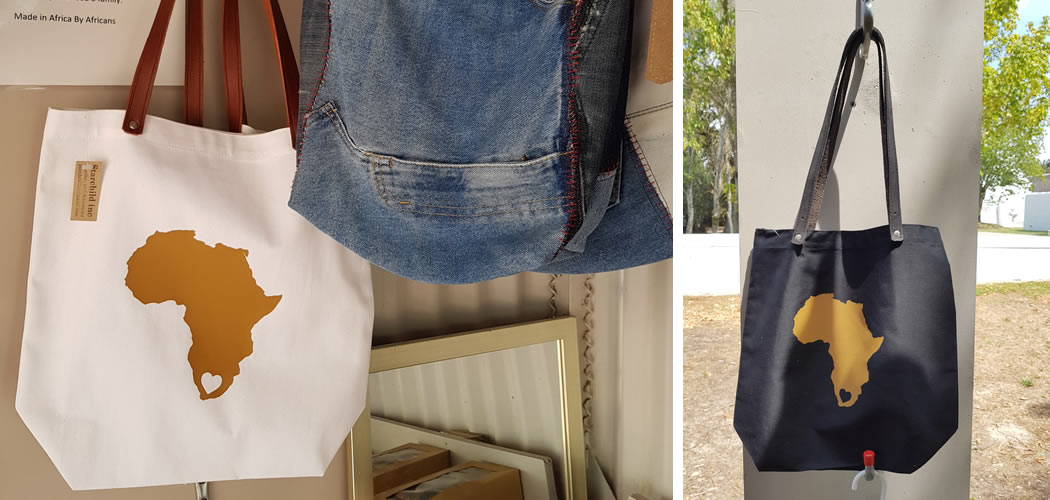 What's next for Starchild?
I'm wanting to make clothing this year. I'm doing a pattern-making course. I'd love to study fashion at some stage too, but for now a pattern-making course is much quicker - 10 Saturdays versus a three year course. I already do festival wear, I bedazzle second-hand denim jackets with trims to upcycle them, and I want to get into men's clothing too.
See Wendy's bags and jewellery at The Craft Market at Spier, open every day 10h00 to 17h30 until beginning May at Spier Wine Farm.