Craft Market at Spier, New Artists 2018-2019: Kilford Cement
By: Sue Heathcock (2019-03-15)
Kilford Cement combines found objects with collage and paint to create unique and quirky works of art with a distinctive African feel.
How did you get started?
I'm a self-taught artist, I learned to paint in 2005, became a full-time artist 2010. I make recycled art. I paint on old vinyl records and collect popsicle sticks and make art out of them, so it's mixed media art, a bit of collage. I'll stick popsicle sticks or paper on the vinyl and paint on that. I do faces and figures, portraits. I also do oil paintings for exhibitions, but it's the recycled pieces that I have here at the market.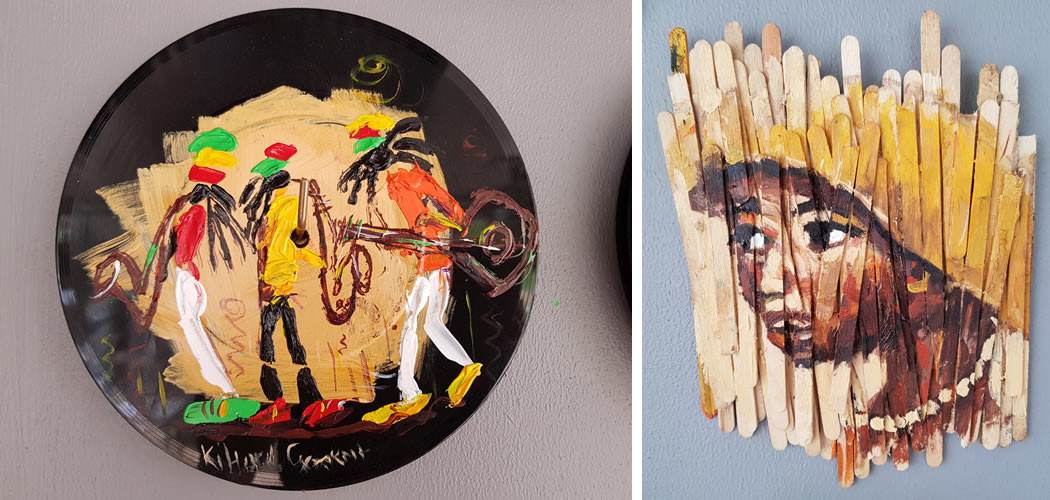 What inspired your art on vinyl records?
The idea came out of my mind when I went to a vinyl record store and this guy had some vinyls he wanted to throw out, so I asked him to give me some. He gave me five, and I decided to try something new. At first I thought the paint wouldn't stick on the vinyl. It took me a year to come up with this concept. These are all old, scratched vinyls that would otherwise be thrown out.
See Kilford's art at the Craft Market at Spier. Open every day 10h00 to 17h30 on the lawns below the wine centre at Spier Wine Farm.
https://www.facebook.com/kilford.cement.7