The Craft Market at Spier, Artists: Chumisa Manyamalala
By: Sue Heathcock (2019-03-08)
Chumisa Manyamalala makes an elegant selection of beaded jewellery pieces, from wide bracelets to pendants and earrings in a variety of colours and sophisticated designs. After learning her beading skills in a programme with the CCDI she worked for a short while with a group of ladies in Gugulethu before going out on her own and dreaming up a range of her own designs 14 years ago.
How do you get ideas for your designs?
Sometimes I find patterns on Pinterest that I like, also I'll see fabric prints and knitting patterns and I'll work out a design from a printout. It's more contemporary modern than traditional African patterns, but I'm also inspired by our culture, especially these black and white designs. People like the colourful pieces too but often find black and white easier to wear.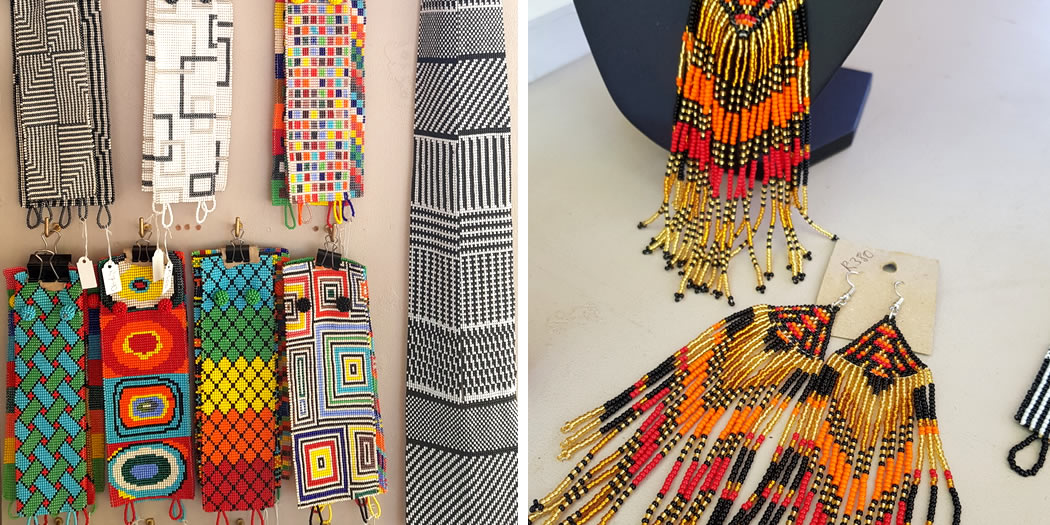 What is special about the materials you use?
I use beads from Japan and Czech Republic as those are the best quality. They are smaller and finer than the ordinary beads so I can do more detailed designs and they are much more elegant.
What do you enjoy about this work?
When I go to the factory where I buy leather I look out for unusual pieces. It can be difficult to get leather from wild animals, it's sourced from animals in game reserves and only occasionally available, so I just get it whenever I see it. I do ostrich only for small pieces like wallets as it's pretty expensive, and I have some giraffe bags at the moment.
See Chumisa's jewellery for yourself at The Craft Market at Spier, trading every day 10h00 to 17h30 until beginning of May on the lawns below the wine centre at Spier Wine Farm.