The Craft Market at Spier, New Artists 2018-2019: Aleck Mhizha of Leather for Life
By: Sue Heathcock (2019-03-07)
Aleck Mhizha of Leather for Life makes a variety of leather handbags and smaller leather items such as bracelets, wallets and belts. He chooses his leather skins carefully to give extra character to his designs and has a range of bags using unusual African leathers such as buffalo and giraffe.
How did you start working with leather?
I actually started off making clothing. I was starting to mix leather and fabric in my clothing designs, denim and leather, as I liked the combination. I found that I loved working with leather, so I thought to try making bags and that's how Leather for Life started.
My sling bag is the most popular design at the moment. I also enjoy playing with the offcuts of leather to make small styles of bracelets. Often you can do more with offcuts than with a whole sheet of leather, it inspires you to be more creative, getting more ideas, experimenting. Nothing goes to waste.
What types of leather do you use?
I noticed that tourists like the leathers from wild animal skins. Locals tend to prefer leather from domesticated animals like cows.
When I go to the factory where I buy leather I look out for unusual pieces. It can be difficult to get leather from wild animals, it's sourced from animals in game reserves and only occasionally available, so I just get it whenever I see it. I do ostrich only for small pieces like wallets as it's pretty expensive, and I have some giraffe bags at the moment.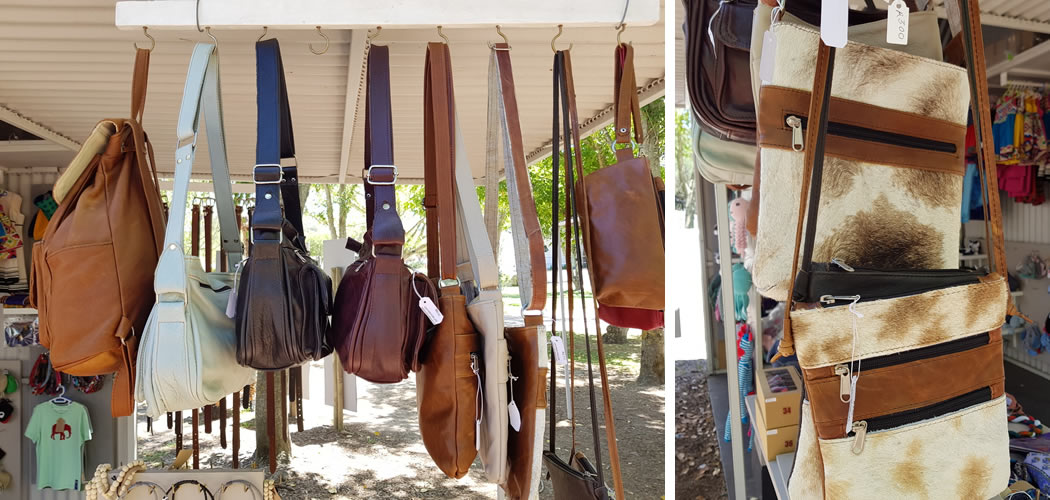 I like working with buffalo as it has so much character. it's soft but thicker than cow and what you notice on the buffalo, there are scratches and scars, so it tells you the story of the animal – wild animals run through bushes and thorns, they fight, they get scratched so you find the story of its survival marked in the leather.
See Aleck's leather designs at the Craft Market at Spier, open every day until beginning of May 10h00-17h30.