Craft Market at Spier, Established Artists: Lebogang Morgan of Modice Creation
By: Sue Heathcock (2019-04-16)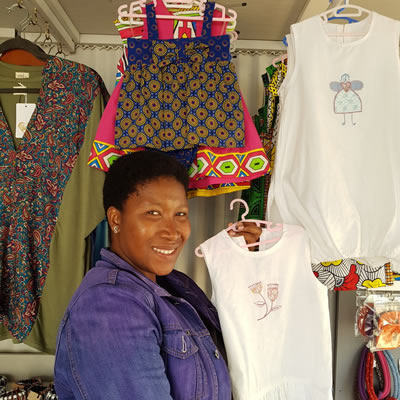 Lebogang Morgan uses colourful African prints to make children's and baby clothes, bibs and booties under the name Modice Creation. She has recently added a new range called 'Linen Closet' for which she is collaborating with uVuyo, featuring their delicate embroidery on pretty white ramie linen dresses.
How did you get started?
I studied fashion design at the University of Technology and interned with Sissy Boy, then worked in a casual clothes store and a bridal store. After I got married and had a baby, my previous boss got a job with Earth Child and I worked there for a while until I started making my own things.
When I joined Spier Craft Market it was a huge learning curve. I started selling small pieces, neckpieces, ties for the first season. When I found out I was pregnant, I started making booties for my baby, and Sue suggested I sell them. I made five pairs and three sold in the first week. Then I added bibs, bows and face cloths. One day Sue came to my house to see the baby and saw some little dresses I'd made for her. She said I should try selling them. Now my best-sellers here are the dresses. That inspiration started growing and growing, and I've learned so much from Sue in terms of what sells, presentation, the business side.
What was the inspiration for your Linen Closet range?
I've always done modern African prints. But there came a time when I needed a fresh look, more boutique level. I thought of using linen for the quality. I bought a roll of plain linen, but it still needed the African touch. So I thought of the uVuyo ladies. They agreed to try a collaboration. We worked together on some designs and kept trying new things until we found colours that worked. I wanted all white. For me it was remembering Easters when we were kids, we used to run around, the whole family was there, and we always had white dresses. So the inspiration is Easter in white.
The uVuyo embroidery adds to the hand-made feel and gives it the African touch. Every flower is unique, every angel is unique. They came up with the angel design and it was perfect. It's a child's illustration of an angel, instantly recognizable to a child. It's funky, it's fun and I love the soft colours we are using now. The embroidery completes the story.
About uVuyo
uVuyo means joy. The uVuyo Skills Training Programme aims to empower women with various Handcraft, crafting and life skills to become socially and economically more independent. The group works from the Legacy Centre in Kayamandi, Stellenbosch. At the Craft Market at Spier they sell their embroidered purses and bags, as well as the new dress collaboration with Modice Creation.
About ramie fabric
Ramie is a fabric that was known in Ancient Egypt and medieval Europe. Made from the ramie plant which has been cultivated in eastern Asia for fibre since pre-historic times, it's sometimes called China linen or grass linen. Its strength and durability plus its ability to hold shape and reduce wrinkling, make it a really useful fabric for long-lasting clothing. Ramie should be hand washed or machine washed in cold or warm water to prevent shrinking or stretching.
See the new line of pretty dresses in time for Easter at the Craft Market at Spier. Open every day 10h00 to 17h30 until beginning May.