Craft Market at Spier, Established Artists: Lara Kelbe of Misc. Clothing
By: Sue Heathcock (2019-04-24)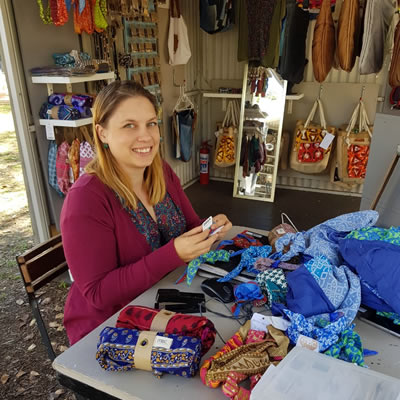 Under the brand name Misc. Clothing Lara Kelbe makes a range of oh-so-pretty accessories, scarves, snoods, T-shirts and jewellery from light and colourful Indian sari fabrics.
How did you get started?
I always enjoyed drawing and design, then I studied fashion. I went overseas working at a suit place, then when I came home I started experimenting. I'm from Durban and have always loved the sari shops. The Indian community and culture is a huge part of living there There's so much lightness, colour, pattern and prints and beautiful quality fabrics.
Tell us about your brand.
My range is based on making good quality basics, using the print to best effect. My brand name Misc. is all about creating things and not being defined by one print or style. It's about being comfortable and relaxed but also feeling special in everyday wear.
How do you work?
One sari will usually make about six pieces depending on whether I'm making scarves or T-shorts. The prints on each sari are all different and cool. So effectively I'm making limited edition pieces in that print. I'll use up all the fabric of one sari on a few T-shirts and use the leftover scraps for hair ties and bands and on jewellery, so nothing is wasted.
What types of fabrics do you use?
I get my sari fabrics from various Durban stores. The new fabrics I buy are usually polyester-cotton blends. They are all different weaves and types of blended fabrics and very often feel light and silky. I also buy second hand real silk saris for my re-purposed range. These have often only been worn once or twice, or they maybe have a tiny bit of damage, which I can cut out and use the undamaged fabric for scarves. I love the texture and feel of sari fabrics, that's what attracted me to them. I'll then use viscose and lycra blends for my T-shirts to give shape and stretch and mix with the sari fabrics to create a design – the print then becomes a focus without overwhelming or looking too busy.
See Lara's collection for yourself at The Craft market at Spier, open every day 10h00-17h30 until mid-May.https://www.facebook.com/misc.clothing/