Craft Market at Spier, Established Artists – Jeff Mwazha
By: Sue Heathcock (2019-02-13)
Jeff Mwazha has developed a signature wire sculpture technique that he calls 'random wire sculpture'. A progression from using chicken wire, the separate wire pieces give more fluidity and life to the finished sculptures. He has trained many aspiring wire sculptors over the years, sharing his techniques and giving them the skills to earn a living.
Here he tells us about the challenges that come with growing his business, and moving towards being a signature artist of larger one-off pieces.
How did you move from hand-to-mouth maker to building a business?
It's tough to say where the journey started, things always change. Where I am now, I no longer have to make something to sell so that I can pay rent, before I make my next piece. It started off very hand to mouth, it took me a long time to jump that bridge. I've always had to cut my expenses, be careful with money.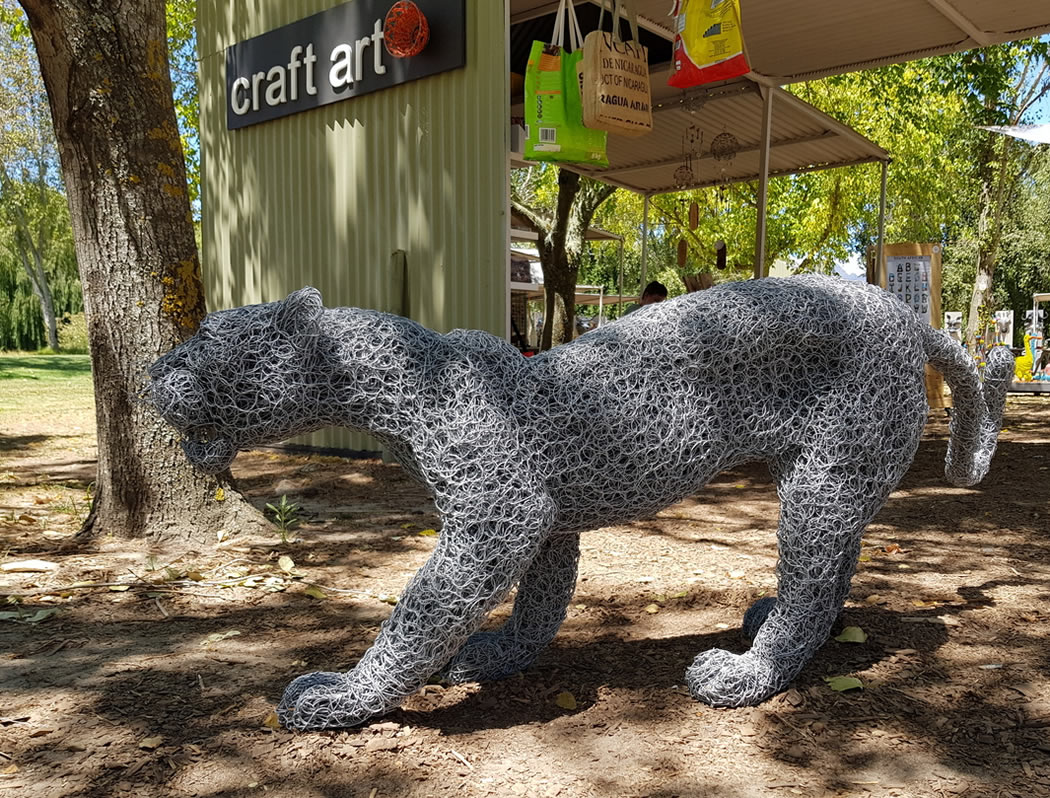 Since the business started to grow and I've started to train people I've found another challenge. In economics it's always like that - you train people, now they want to do their own thing, so there are going to be challenges in the market, as they are going to make it cheap or sell it everywhere. Either you keep them busy or they go sell their own thing on the street. But people can see the difference. They might come and say that they've seen one of my smaller pieces somewhere else, one made by one of the people I've trained who is selling at other markets, but they notice that mine look different, more developed.
The good thing is that it pushes you to be the best you can. You have to up the game in terms of quality, in terms of changing designs. And the advantage of training people and having a team is that you have enough stock and have time to be more creative. When you come up with new designs, some you have to keep for yourself, others you share. I do all the finishing of the sculptures, to put my energy, my experience, my ideas into the finishing touches.
What's next?
What I want to do now, when I have enough time, is to develop new designs. I've got them in my head already. Next year when you come, you'll see what I've been thinking. I need to create them before market opens next season, they will take time to make. Last year my figurines were new and they did very well that season.
I'm heading in a good direction as a signature artist, which is my dream. I want when I'm in my sixties to be able to tell the stories of which sculptures I created. Last year I did a 4 metre sculpture of Mandela for the Absa museum in Johannesburg, that really pushed me business-wise. View article https://www.thecdi.org.za/news/411522/Jeff-Mwazha-creates-four-metre-Madiba-sculpture-for-ABSA-Museum.htm
Do you have a favourite animal to make?
I love making the leopards. I just love the muscle, the movement. Most animals stay in groups, the leopard is always alone, but there's something special about them. That's why our kings used to wear leopard skins, spiritually it's something that keeps you grounded, meaning that you have to be yourself. I do other animals too, but my real passion is for leopards.
The Craft Market at Spier is Jeff's main retail outlet. He also takes commissions and shows in exhibitions around the world. See his work every day until the end of April, open 10h00 to 17h30 on the lawns below the Wine Centre at Spier Wine Farm.