The Craft Market at Spier, Established Artists: George Dokora
By: Sue Heathcock (2019-08-15)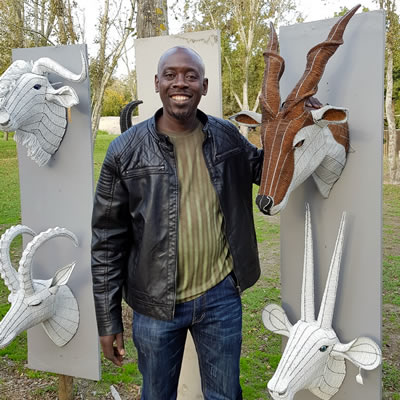 George Dokora makes life-like beaded wirework animals, both trophy heads to hang on the wall and standing sculptures, as well as a line of fruit bowls and small animals. He is also part of the regular sales team at the market during the season.
How did you get started with beaded wirework?
I started doing this in Johannesburg. I used to help someone who was doing beadwork and he taught me the skills. I moved to Cape Town in 2001 and was selling at the traffic lights. Over the years I grew from one product to another. I got my inspiration from nature. I love watching documentaries about animals, which taught me to grow as an artist, and I'm inspired by fellow artists as well. I was always happy to share skills with fellow artists, and we'd exchange skills and techniques.
It's been an interesting journey. I'm thankful to have reached where I am now, although growth has been slower than I'd originally hoped. But there's always growth, it may be slow but the graph is still going up. I want to explore going to exhibitions and stuff like that. The Craft Market at Spier has been very helpful to me. It's the main source of my income, although I also get special orders from long-term clients.
How has the season been for you and what have your best-sellers been?
It's been a very good season for me. I've had some good sales and feel I have improved the quality of my products. This season my best-sellers were the smaller trophy heads. I sold lots of those. I did sell a couple of the large trophy heads and about four big standing animals, which was a boost. The smaller trophy heads are popular with clients who don't want to bother with shipping and would rather take something smaller and portable that they can fit in their suitcase. Others have the challenge that they live in a small apartment and don't have the space for a large trophy head on their walls, but a small one is easier to find space for. And the price is less so it's an easier impulse purchase.
What I like every season is that it's a learning experience, you always discover something new. You review your season asking what have I done wrong, what can I improve, so I always challenge myself to see what I can do to better myself as an artist. Everyone is moving on, you can't be stuck in one place or you won't survive. Here at Spier we have a good reputation for having the best quality wire and beadwork, so we must always keep improving. Keep on being creative and thinking outside the box.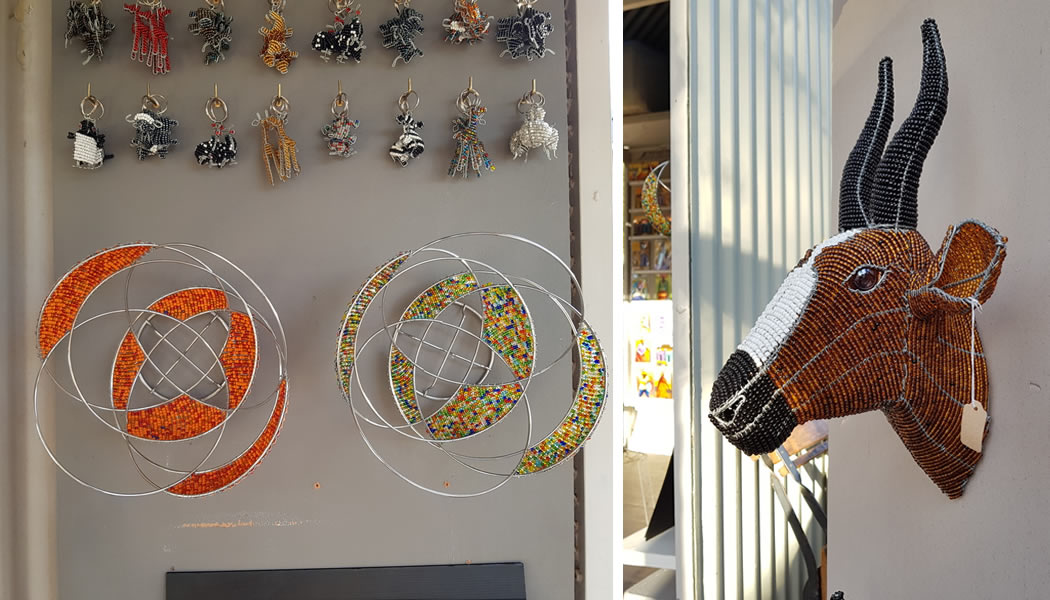 What are your plans for winter?
I'm hoping for enough orders to cover my expenses through winter. My main focus will be preparing for the next season. Over the years I've realised that preparation is key. When you start on a strong note you are guaranteed to have a good season. You don't want to be struggling to build up stock once the season opens. I've already started preparing, so I'm hoping when we open to have enough stock to sustain me for a long time. Then you just need to top up whichever lines are selling best during the season.
I usually brainstorm during the first few weeks of winter to work out my new ideas. It's important to have something new each season so that your clients come back and see new things, not just the same things they've already seen the previous year.
The Craft Market at Spier is closed for winter and re-opens at the end of September for the 2019/2020 season. Contact Sue Heathcock for information and sales queries - sue@sueheathcockprojects.co.za