Craft Market at Spier, Established Artists – Bongani Khumalo
By: Sue Heathcock (2019-02-12)
Bongani Khumalo joined the Craft Market at Spier back in 2011 and his beaded wire art sculptures of African animals have since found homes in collections all over the world. From full-size animals to trophy heads and 2D masks his animals have a life of their own and a beautiful sense of movement.
Tell us about your journey as an artist.
I've been doing beaded wire art for a long time. In 1999 it was still just wire, then around 2003 we started incorporating beads into the wirework. I was making in a workshop for a company for six years until 2010 when I started my own company. It was hard when I started on my own. You don't have anywhere to sell, you don't have any customers. In 2011 I applied to join the market here at Spier and my first year I started off on a high note selling well.
I've only had one season when I was down, I hadn't put much stock here and didn't spend enough time here at the market, but all the other years my sales have been steadily climbing. I try to give myself some challenges, doing some new products, improving the ones I've got already.
What is the secret of doing well at the Craft Market at Spier?
Doing a very good job, doing your art to a very high level.
Give your time to coming here as often as you can. Chat to the customers, interact.
When we're here we're always working. Customers like supporting the people they see making. We can explain the different stages, how long each piece takes, and they tend to appreciate more how much work goes into it. And when they see the artist working, they get the story behind the piece and you become part of their story.
Spend the winter developing new designs and building up stock. Last winter with my team we did a new design of a 2D mask, and we made a bunch of them in 25 different designs. Now we've sold all but two, and it's hard to keep up with demand during the season.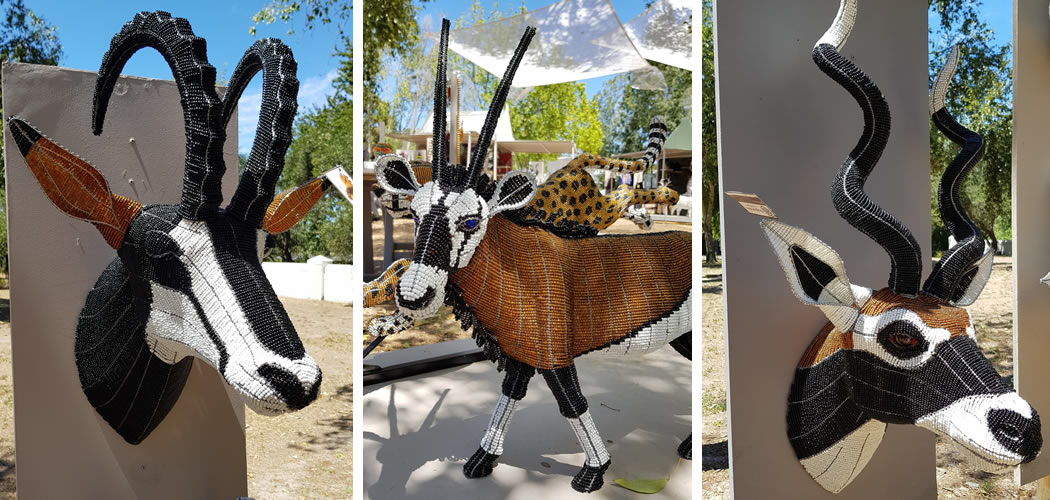 What is your making process?
I have a team of six that I work with. The standing animals take the longest, not everyone can do them, it's a special skill. Each and every shape I do myself. I'm teaching one of my brothers how to make frames now, but I've got the artistic eye, so I have to do all the finishing touches, the muscles, the movement.
How do you get inspiration for improving your work?
I add more details. I take a closer look at those tiny little details on the animal and try to add it to my animals. There is so much competition, people try to copy what you're doing, so I don't want to stay in one place, I always want to move on, grow. I look at photos, television documentaries and books, and turn a 2D picture into a 3D form. For this sprinting cheetah I'm working on at the moment, the inspiration came from a guy who's working in bronze. I've done one on a smaller scale, this one is going to be bigger. I love the movement. All my animals, even my standing animals, I try to give them life, so that you interact with it when you see it.
Visit the Craft Market at Spier to see Bongani's beaded wirework sculptures. He's usually there two or three days a week, so you can watch him work and see how he makes his pieces come to life.
Open every day until end of April 10h00-17h30 on the shady lawns below the wine centre at Spier Wine Farm.

https://www.facebook.com/Beadsandwireart