Craft Market at Spier, Established Artists: Bishop Tarambawamwe of Master Wire and Bead Craft
By: Sue Heathcock (2019-05-28)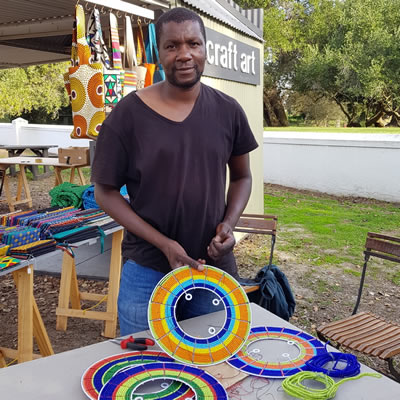 Bishop Tarambawamwe, under the name Master Wire and Bead Craft, makes a line of wire and bead bowls and mirrors that combine the decorative and functional, as well as wire and bead animals. He sells at the Craft market at Spier each season, has a shop at the V&A Waterfront and makes up orders for his international clients.
How did you get started with your wire and bead work?
I started in the streets like many artists. It wasn't to become a business person, it was mainly to survive. Initially I was doing dolphins. I was selling near Kirstenbosch Gardens - one day the traffic cops said we were disturbing the traffic flow and we were asked if we were interested in moving to the Waterfront. Back then it was quite easy to get space. Selling there I realised that people weren't interested so much in the animals but more in interior decoration. So I thought about what I could develop that is not just decorative but also functional. I started making my bowls, then with help of the CCDI I exhibited at a Design Indaba. They asked me for a new product so I came up with my first mirror. That helped build a name for me and I got an order from the USA. From that mirror my products started to be recognised.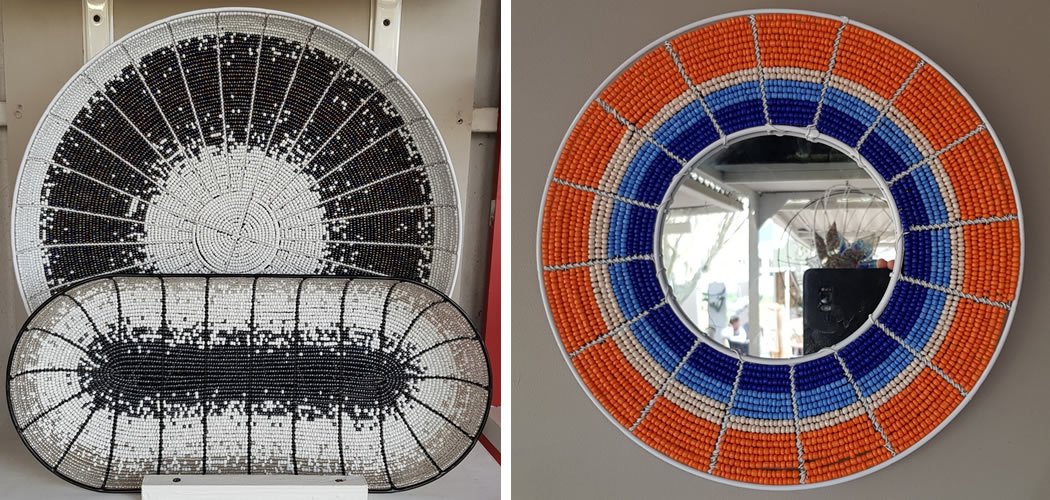 What are your best-selling products?
My best-selling products are still my mirrors and bowls. The way I've designed them it's quite a lot of work. Using several colours rather than just one or two (as most artists do) is quite time consuming, but because I've mastered it over the years I can work efficiently. I'm currently working on 400 mirrors for a customer and making 5 or 6 a day myself. This order I'm doing on my own - with my wife's help to thread the beads - the customer has given me four months to complete the order so we can do it all ourselves. The mirrors sell well locally and internationally and these orders take me through the winter.
How do you decide on colours?
I decide on colourways by instinct, I don't follow trends and just decide on colours as I go. My customers let me decide as the artist and it always works. Each mirror comes out different to the next. The bowls are usually in graduated shades of blue, or red, orange or brown using a shiny bead.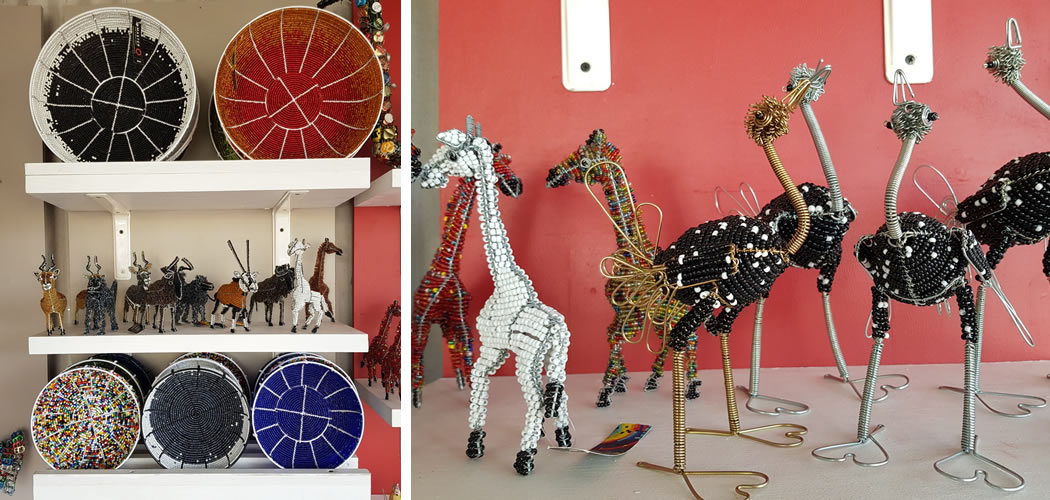 What will you be working on over winter?
For winter I'll be concentrating on finishing this order then after that I'll be building up stock for the new season. I'm thinking of doing Decorex, but I don't have many exhibitions planned this year. Doing an exhibition is good to get exposure, but you need time to prepare, a month before and then a month after to make samples and orders for customers, so sometimes doing an exhibition takes time away from normal production. Because I've been in the business many years I tend to get repeat customers so I no longer need to market myself as extensively as I did when I was starting out.
The Craft Market at Spier is currently closed for the winter break, reopening end September for the 2019/2020 season. Contact Sue Heathcock for info or sales enquiries.
https://www.facebook.com/masterwires/