Craft Market at Spier – Established Artists: Eddie Konde of African Eyes
By: Sue Heathcock (2019-03-14)
Eddie Konde of African Eyes makes a wide range of jewellery and bags using coloured rope. He showed his dramatic statement pieces at Design Indaba this year, was part of the 'Cultural Threads' exhibition at the Textile Museum in the Netherlands, among other international exhibitions, and is constantly innovating with powerful and colourful designs.
How did you start out making your jewellery?
Growing up we always played with wire or beads. I worked for Pichulik for a while, learning skills with rope. Then I started doing my own designs, finding new ways of working with rope, and developed some innovative ways of making bags with rope too. Most of my work is based on colour, must be super colourful. Some of my statement pieces are based on the concept of the traditional Zulu beaded neck pieces, but instead of beads I use different coloured rope in intricate shapes for the designs.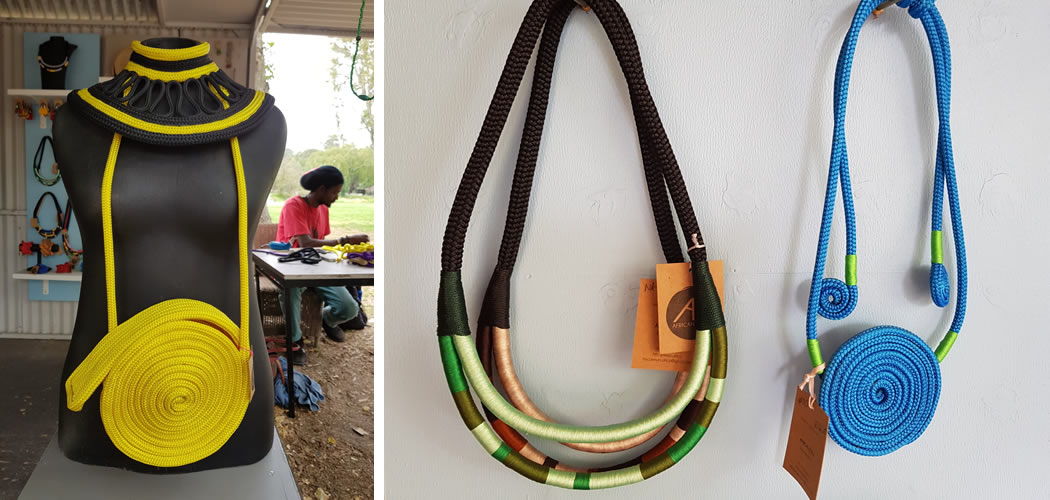 What are your bestsellers at the moment?
The round Spiral bags that I started making a few months ago are most popular at the moment. I sell them at a shop in town as well as here at the market and they sell fast. Necklaces sell well as gifts too.
What do you love about your work?
When you realise that you can do something new with the rope it's fascinating. It takes concentration when you're working with heat, if I press it too hard it's going to burn the material, if it's not hot enough it doesn't work. The rope is the quality of ropes used for climbing and yachts, so it comes in lots of different colours which allows me to play around with designs without always having to wrap the rope in coloured thread.
The necklaces you can bend into any shape you want and it keeps that shape, make it round or square, so you choose by colour and then have a flexible piece to wear. I hope people like it because I'm making what I love. I feel what I'm doing, so I hope it brings the same feeling to my customers.
See African Eyes designs at the Craft Market at Spier. Open daily 10h00 to 17h30 until beginning May on the lawns below the wine centre at Spier Wine Farm.
https://www.facebook.com/AfricanEyes.Africa