The Craft Market at Spier 2020, Established Artists: Sam Sithole
By: Sue Heathcock (2020-02-21)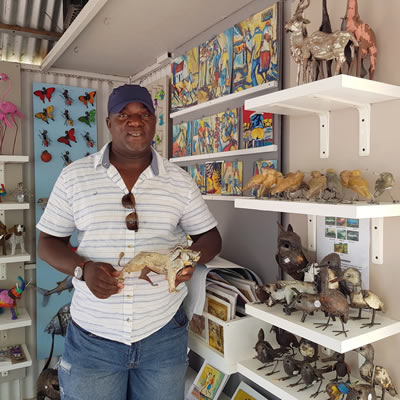 Over the last fifteen years, Sam Sithole has built up an innovative range of recycled metal animals and trophy heads using scrap metal from old cars and other recycled metal. He also has a separate line of carved soapstone birds. He tells us more about how he has built his business and his team.
How did it all start?
A long time ago, back in 2000 I was in Joburg looking for work. I had been unemployed for six months and I met a friend of mine – he said, "Sam you have skills already, you learned so many things when you were young. Can't you help me put beads on wires." So I started with that, then he encouraged me to try making the frames. From there I started making big animals in wirework. When I came down to Cape Town, I saw so many guys doing wire, so I looked for something else to make. I decided to do my own designs in recycled metal, relating to the wire stuff I'd made before.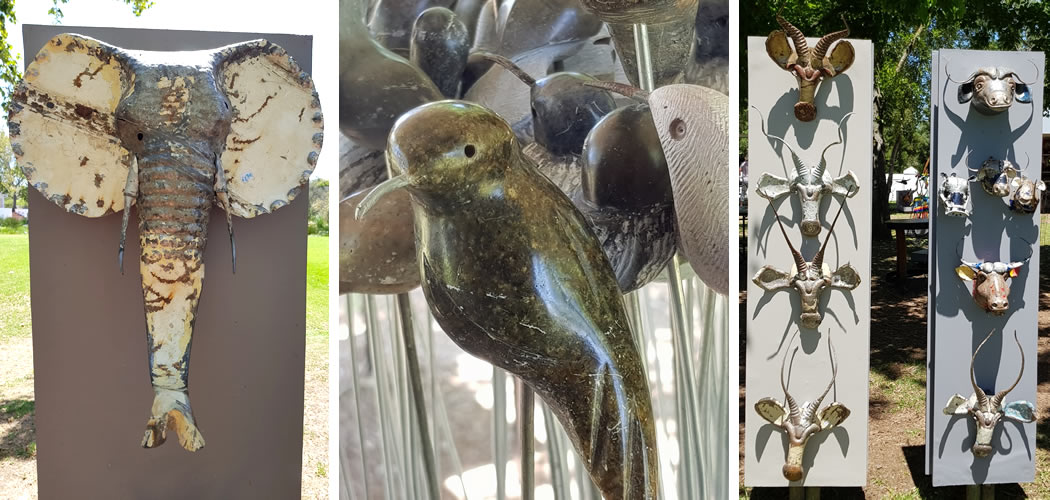 How did you go from being a single artist to growing your business?
I'm not good at welding myself so early on I got a friend to do that side for me, attaching the metal to the frames, so that was the start of my team. As my business has grown, I've got more into the designing and marketing and I have a core team of three guys who work with me on bringing the ideas to life.
Early on I was at the Craft Market at Spier when Sue took it over. Sue encouraged me on the production side. I learned a lot both on the production side, and on the business side, how to calculate prices etc. Then I was introduced to the CCDI and did many courses there to help learn the business skills I needed. In 2015 I got my own space at the Watershed at the V&A Waterfront, and I did a big exhibition in Joburg. I now have regular clients in Germany and the UK.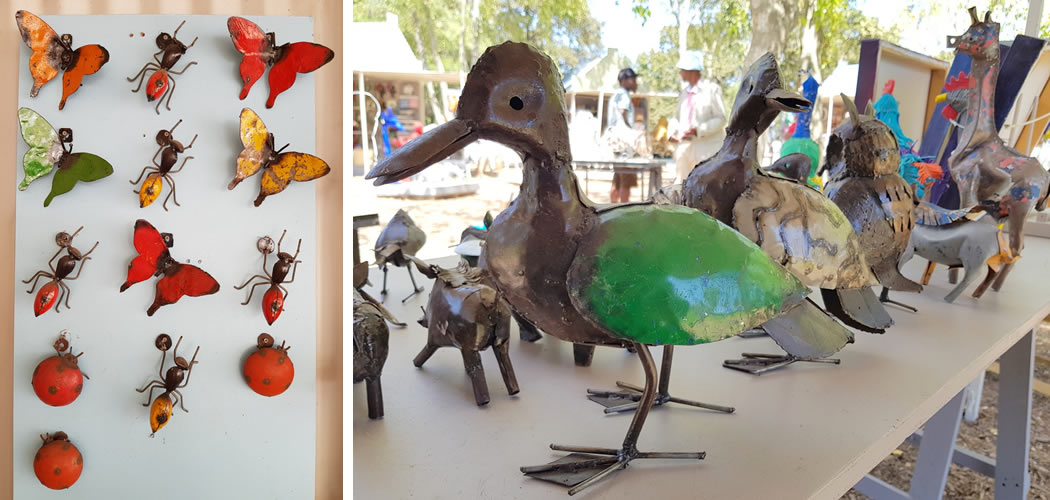 Where do you source your metal?
I go to scrap yards for my metal, and I have a group of youngsters who collect scrap in the townships for me. But I tell them they must ask to make sure it is actually waste metal and not steal! I'd hear back if things were taken without permission. I use old car parts, boots and bonnets, and any waste metal. I'm using metal that would otherwise be littered around the landscape or going to landfill. The kids who collect for me are doing a clean-up job, learning to work and earning money to help their families.
Where do you get your ideas for new pieces?
The shapes of the metal give me ideas for new pieces. Everyday you find different stuff. And you see pieces artists are making in different mediums and think how it could be translated into metal. Customers often ask for a particular animal, like a pangolin or a meerkat, so I look for functional scrap metal to make those animals. I'm always looking for new ideas each season. This year I introduced the little ants, butterflies and ladybugs and I'm working on some more ideas for next season.
See Sam's work for yourself at The Craft Market at Spier. Open every day 10h00 to 17h30 until mid-May on the lawns below the Wine Centre at Spier Wine Farm.