The Craft Market at Spier - 2018/2019 Season Is Open
By: Sue Heathcock (2018-10-23)
We've had the best start to the season ever, since we opened on 1st October, and what is really exciting is that a whole spread of products have been selling well. Many of our established artists from previous years have developed new lines for the new season, and we've welcomed 11 new artists among us, so there's a fresh energy to kick summer off in style. As always the market is designed as a space for creative entrepreneurs to shine, with the larger percentage of each sale going to the artist, and an ethos of community, caring and co-operation.
Over the winter Spier Wine Farm have re-landscaped the main visitor area with a whole new layout between the Wine Centre, the lawns, 8 Restaurant and the Werf, including extending the dam by several metres and new steps and pathways. It's really opened up the visual and physical flow, so that all the areas connect together more fluidly. Our market space is now highly visible, with one of the main flights of steps leading directly to the market entrance, where we are still sheltered and shaded by our circular glade of trees.
This season we are introducing various added-value activities at the market. These making experiences can be booked online. We're also offering gifting for events, and pop-up shops or market experiences off site.
We'll be introducing each of our new artists through the season with interviews and features on the blog, and re-visiting established artists, but in the mean time see below for a list of artists starting off this summer season.
Please come and visit to see their work, meet some of the artists each day as they work on their new pieces, and fall in love with some of Cape Town's best hand-made African art.
We're open 7 days a week 10h00 – 17h30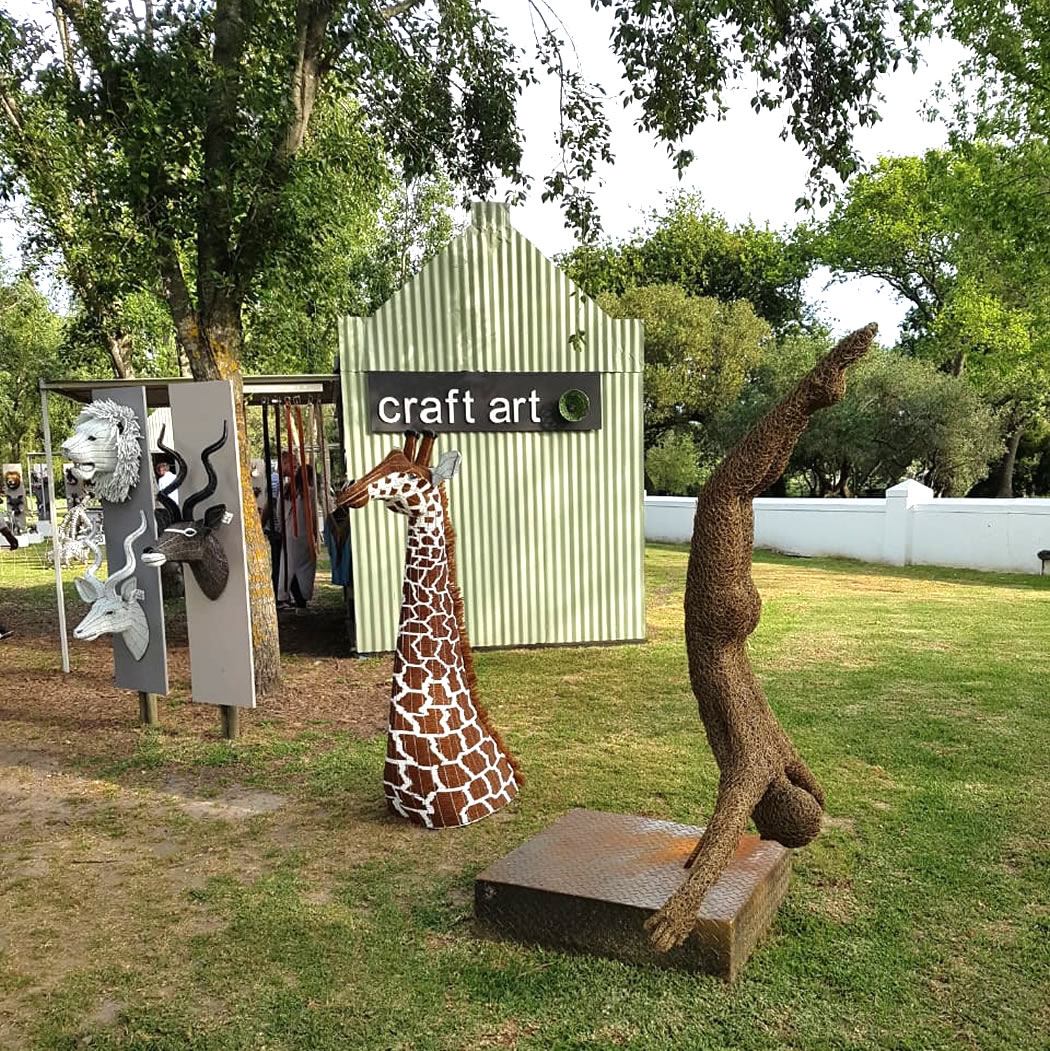 Artists at The Craft Market at Spier 2018-2019
New to the market
Capensis - organic beeswax soaps and beauty products
Creative Lines – shopping bags etc made from recycled wrappers
Jande – Slumped glassware
Lilly Loompa – functional art from recycled materials
Samkelo Nyakambi – Beaded watch straps and bracelets
uVuyo – Embroidered bags and purses
Chameleon Design – beaded flowers and peacocks
Hamilton Mbenuka – painted and carved wooden items
Maxwell Ngongang – Shwe Shwe bags, wine totes, picnic blankets
Kilford Cement – paintings on records and found materials
Nes Jewels – Jewellery made from repurposed coffee pods
Artists continuing from previous seasons
Corrine Erasmus – paintings, prints, stationery and jewellery
African Eyes – costume jewellery
Chumisa Manyamalala – beaded bracelets
Mukanya Creations – leather bags and accessories
Nicky Mayoyo – jewellery, children and adults clothing - LEARN MORE
Boniface Chikwenhere – driftwood sculpture LEARN MORE
Sam Sithole – Beads, stone and metal
Senzokuhle – telephone wire art
Zach Mukwira – acrylic canvas paintings - LEARN MORE
Bongani Khumalo – Beaded wirework heads and sculptures - LEARN MORE
Godfrey Dambuleni – Recycled material heads and sculptures - LEARN MORE
Jeff Mwazha – Compressed wire sculptures - LEARN MORE
Tafara Karidza – paintings on board - LEARN MORE
George Dokora – beaded wirework heads and sculptures - LEARN MORE
Kudakwashe Gavi – Acrylic canvas and other paintings - LEARN MORE
Andrew Dambuleni – Recycled materials sculptures - LEARN MORE
Bishop Tarambawamwe – beaded bowls and platters - LEARN MORE
Prosper Mabhiza – rainbow beaded wirework sculptures
Tendai Mahlengwe – Recycled 3D pieces - LEARN MORE
Busy Hands – crocheted animals, children's hats and booties
Lara Kelbe – snoods, shirts, jewellery
Leather for Life – Leather bags and accessories
Modice Creations – children's dresses, accessories, yoga pants - LEARN MORE
Starchild – bags and jewellery
Ursula Dale Ceramics – ceramic decorations
Streetwires – beaded wirework
Maria Sikinya – jewellery
Alexander Durandt – propellers and bats
Potters Workshop - ceramics