Spier Craft Market: Zach Mukwira
By: Kit Heathcock (2018-04-26)
Artist Zach Mukwira is a familiar face at the Craft Market at Spier. At a table working on his latest artwork, busy cutting intriguing designs into layered board, he's always happy to pause in his work and chat to visitors. We asked him to tell us more about his work and his individual style.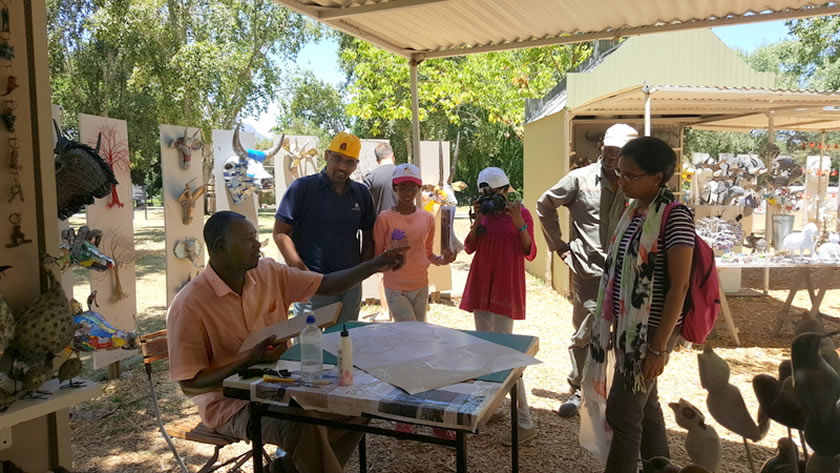 How did you develop your layering technique?
It all started from my experience with printmaking. I trained as a printmaker before painting came as a blessing in disguise! For printing we always used a base of hardboard – we'd draw on paper or cardboard and stick it on a hard backing, to cut into, to make the relief for your print.
Back then in Zimbabwe, when the farms were shut down, it was hard to get materials for printing. I started to experiment with different papers and found a double layered paper. So I started cutting into the top layer and then applying paint to make a one-off original piece instead of a print. This was all on a small scale as I was still inclined to my old way of thinking in the way of a print maker.
Later on I was going backwards and forwards between South Africa and Zim, and a friend in Johannesburg who ran a gallery from home saw me using this technique and encouraged me to continue on a larger scale. Most of my big pieces now use this technique and it's been well received. Each piece is unique and original, the technique may have evolved from print-making, but I don't make copies!
Where else do you show your work?
I take my work to Oude Libertas market on weekends and have quite a following of German clients there, who will commission pieces from me. I was part of a group show for First Thursdays, last month, at a pop-up gallery on Long Street called 40 Stones in the Wall; we're hoping to make that a regular thing, but it depends on finding a venue each time, which isn't easy. I also have work showing at Art At Africa at the Clocktower, and various other galleries.
Tell us about the Making Experience you recently led with the Spier Hotel reception staff.
For me it was very rewarding to impart the knowledge. For this session I had done the drawing in advance and showed them how to transform the outlines by cutting into to it to create the 3D picture. Many people think they can't make their own art because they say they cannot draw. I wanted to remove that notion and explore the idea of an abstract piece, what it is and what makes it up. By looking at art differently it frees people up to see that a simple pattern and the use of colour can create art. Then it's not so hard to believe that you too can make a piece of art.
So, for this Making Experience, they did the cutting to create the base picture and really enjoyed the experience of doing something creative. Some of them want to come back to work with the colour and I'm looking forward to going deeper with them and exploring that aspect.
Zach's Making Experience will be offered to visitors next season at the Craft Market at Spier, along with a selection of other creative experiences. For more information and to book, contact Sue Heathcock at sue@sueheathcockproject.co.za