Recycled Art at Spier Craft Market
By: Kit Heathcock (2017-03-02)
Meet four of our artists at Spier Craft Market, who all use recycled materials for their work.
Jeff Mwazha
Jeff Mwazha has developed a sculptural style using crushed wire to create lifelike animals from rabbits to life-size leopards.
"My recycled material is wire. There are several good reasons to used recycled wire – first as I use a lot of wire, it's cheaper to collect it from the scrapyard than to buy new. Second it keeps the environment clean – I have guys who go round picking up wire and bringing it to me. And they are renovating a lot of structures here taking out the wire, so we are putting that wire to use, giving it a new value that then is a boost to the economy.I started with wire craft as a child and after high school in the 90s, I started making small items. My dream was to make sculpture out of wire, that was my journey and now I'm making good sculptures, so that my clients ask me where I went to university. I tell them it has been over years and also Ideas come from meeting different people and sharing different ideas. I still hope to grow further in my wire art. And I've inspired almost a hundred guys I'm working with in the townships who are now starting to make my designs and are able to put food on the table. I feel great about that.
Spier is an area for expanding. There are lots of visitors from all over the world and I take the contact details of my customers so that I can let them know when I come up with something new. I'm creating a network all over the world. Spier is a good area where we connect to everyone, it's very motivating."
Godfrey Dambuleni
Among other techniques, Godfrey Dambuleni of Mixed Ideaz uses a patchwork style, applying cut up metal pieces from cans and other things to the wire frames of animal trophy heads. He also makes the very popular globe world maps in three different sizes.
"I started using recycled materials because I saw a lot of metal being thrown away. I thought of recycling it for the good of the next generation and to keep the environment clean.
I make animals on a daily basis – people used to hunt animals for their heads. I thought it's much better that I make something, that they can put on their walls and I'm helping out the animals. I especially like making the rhino heads as I love their shape with all the horns and too many of them are being killed for their horns, very soon we won't have any rhinos.
Spier is somewhere that really promotes us. Most of the people from overseas hear about it and come to Spier, so with our pieces being exhibited here we get well known worldwide. It's great place to be and I really enjoy working here."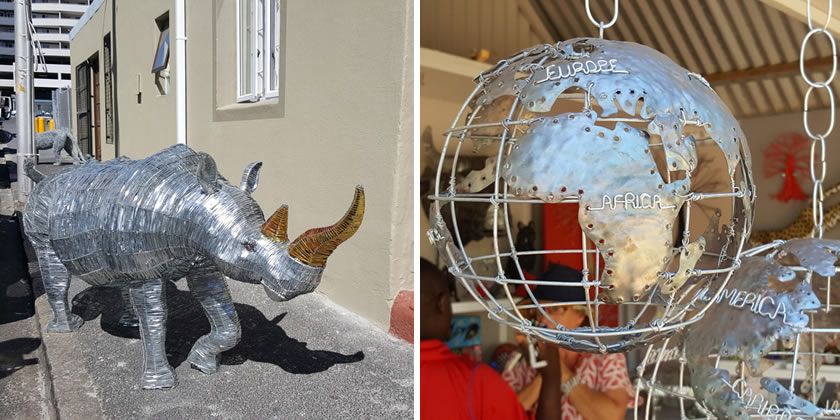 Andrew Dambuleni
Andrew Dambuleni of Africola makes a wide variety of products according to the materials he finds, from trophy head lamp shades to hippo bottle holders.
"I use any materials that I come across. I do recycled art. If we talk about wire art most people are talking about the beads side, wire and beads. I used to do bead work 15 years ago then I saw too many people were doing that so I moved to using recycled materials. I started with coke cans cutting them in strips to weave. Then I saw a similar use for metal curtain blinds. I also use bottle caps to make animals. All the types of things you see made with beads I can divert into making out of recycled materials. And recently I started using shower hoses, opening up the metal springs to make spirals. I mostly use that to make lamp shades, trophy style heads that reflect the light through.
When I work I just feel it when I look at something. I see so many things that just come into my brain. Sometimes when I'm working on a piece, I take the material, thinking of making one thing and when I take my pliers and wire I change my mind and I see something else.
Spier is the place that inspires me, it gives artists space to make big items. The feeling that you have when you're making a big thing is different to making small ones - with a small thing you can't see where you're going, but with a big thing you can move, you can make a movement."
Tendai Mahlengwe
Tendai Mahlengwe is constantly inspired by the materials he is able to recycle, creating art with all sorts of metals, as well as plastics, buttons, bicycle cogs and tyres, and things you would never imagine could be turned into art.
"I started off with wire and beading. When I came to Cape Town I met some other artists, Raymond, Andrew and Godfrey, that were doing recycled art and I fell in love with it. The way they were using cans and other things. You can make something out of nothing. Before I was going out and buying my materials to work with beads. It made me see that the waste, the things that people throw away we can use them. With global warming it's a great way of changing the way we are living life, I love my art.
I spent a lot of time with Raymond, a very creative guy, he used anything, all different types of materials, not just cans. He is the one who inspired me to start this. He made awesome products, some funny, toys, he'd use things like perfume bottles and roll-on containers, you wonder how someone thinks of something like that. My mind opened up to see what we can do with things that are thrown away.
Spier market means a lot to me – it's great for exposure to different people, people we wouldn't meet otherwise, such as international business people. It really helps our artists with networking and marketing."
Come and find their work at Spier Craft Market open daily at Spier Wine Farm from 10am till 5.30 pm