New Artists For The 2019-2020 Season At Craft Market At Spier
By: Sue Heathcock (2019-10-09)
Introducing the exciting new artists who have joined our market for the 2019-2020 season! Each has been selected for the originality and quality that they put into their art, and each brings something new to the already diverse range of artworks and products at The Craft Market at Spier.
Here's a quick taster – we'll be talking to each new artist in detail over the next few months in our interview series, with more photos and their stories.
For a round-up of returning artists read our previous post here - Our Returning Artists 2019
New Artists 2019
Alex Kibalenko - Innovative functional items made from repurposed pallet wood - picture frames, book-ends, beard combs, and memo pad holders.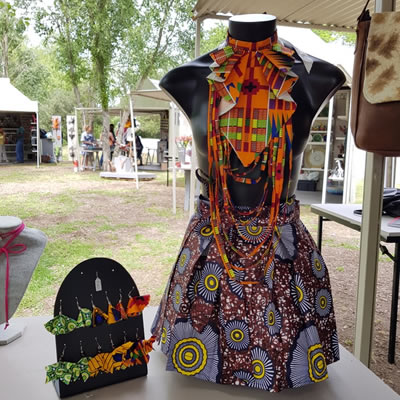 Bomkazi Dunga - Young trend-setting clothes designer and fashionista creating belts, neckpieces and earrings from African fabrics, with a colourful township flavour.
Caitlin Hague - Soft fabric toys, and tools to support early learning, such as hand-made soft felt books with little tasks on each page and a story. Buy the complete book or put together your own book from individual different pages.
Chantal Hurley – Recycled glass bottles repurposed into a range of decorative and functional objects, such as wind-chimes, tea-light holders, pot plant containers, soap dishes, incense stick holders and Christmas decorations.
Dana Dreyer – Functional and decorative objects using a mixture of laser cut wood and shweshwe fabrics in a variety of designs - fridge magnets picture frames, keyrings, clocks and more. Her African lady clock design is already an early winner.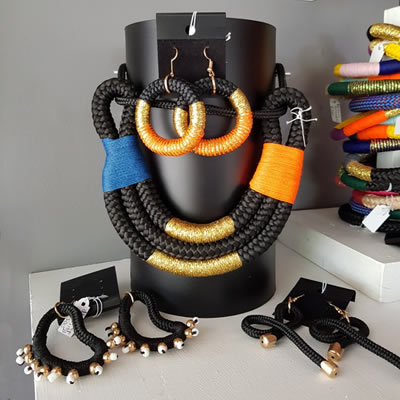 Elita Brooks – Striking costume jewellery with an African twist, produced from a variety of nylon rope in different colours - necklaces, earrings, bangles.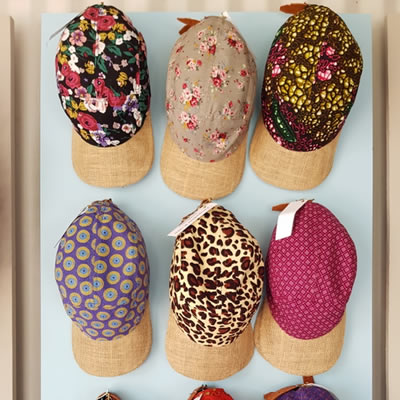 Jacqueline Kolbe - Hand-made adjustable peak caps using shweshwe and other colourful fabrics.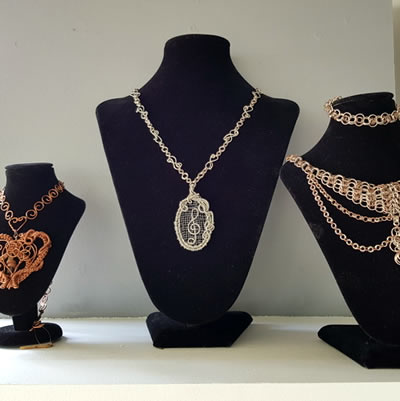 Lynn Barrett Costume jewellery inspired by chain mail in multiple small links - a variety of patterns and designs - necklaces, earrings, pendants, bracelets.
Meschell Beukes - Affordable costume jewellery in both delicate styles and chunkier beads, ranging from ankle bracelets to bangles and necklaces.
Sharp Sharp Belts – Jennifer Carbutt and Jutta Holzapfel collaborate on a range of purpose designed fashion money belts from shweshwe fabric, made by hand and fully lined.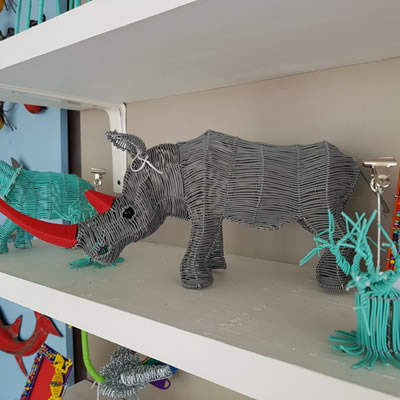 Tavengwa Dahwa – Beautifully designed and precision hand-made decorative and functional objects made from a wire-frame covered by telephone wire - picture frames, keyrings, paper clips, egg baskets, candle holders, plus decorative ostriches and rhinos.
Theresa Haslam - Appliqué and machine-embroidered images with a local flavour – cards of various sizes suitable for framing, notebook covers and A4 recipe book covers using the same images.
Visit us at The Craft Market at Spier to see their full ranges. We're open every day from 10h00 to 17h30 on the lawns below Spier Wine Centre until May 2020.