Meet The Makers at Spier Craft Market - Boniface Chikwinhere
By: Kit Heathcock (2017-02-09)
Boniface Chikwinhere creates beautiful sculptures from driftwood. Birds and animals emerge from the natural lines of the weathered wood, as if he is just freeing up a shape that is already there waiting to be discovered. Here he tells us more about his work.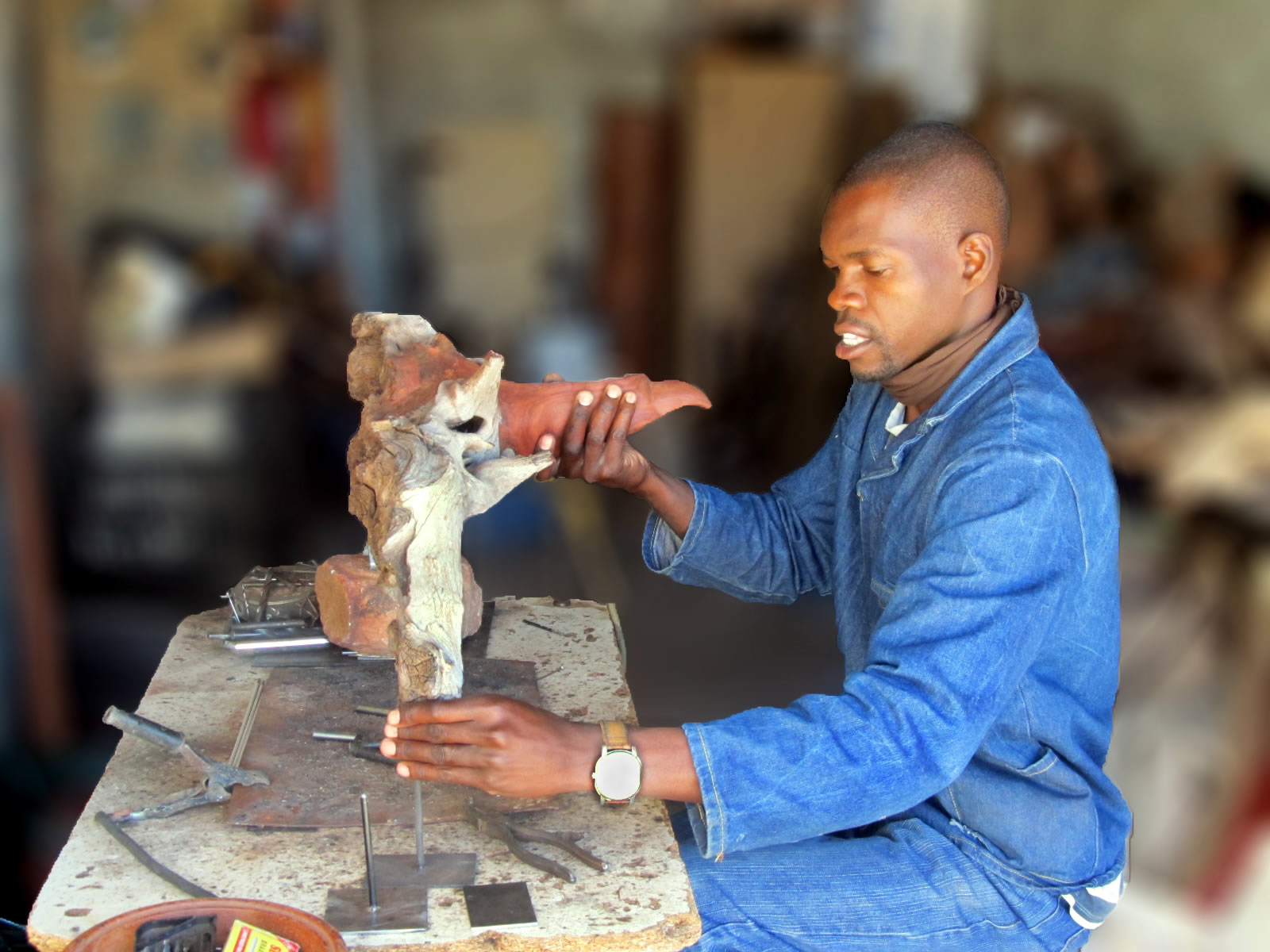 How did you start out with your wood sculptures?
My family has been making wood art for three generations. I learned this aspect of working with wood from my grandfather when I was a boy in Zimbabwe. I always had a liking for birdlife, in most of my sculptures I do a lot of birds. When I started my small business here, in 2008, I was first selling by the roadside to earn an income, then I started doing markets and getting pieces into galleries. Since 2012 I have been selling at Spier and I also now have a shop in the Watershed at the V&A Waterfront.
I still love doing birds, but I have extended my line in response to demand from my customers and I'm doing more animals, what I call trophy heads, rhinos, giraffe, elephant, still in driftwood. I have to make the customer happy, but I haven't deserted my technique – I carve a little part and leave the rest natural for the material itself to express what it is.
What inspires you making new pieces?
I always say the shape is already there in the wood, I have to first identify the shape and then bring it out, picking out the natural character of the wood. The real artwork is the natural character of the wood that has developed over the many years of that tree's lifespan.
Where does your wood come from?
I use driftwood. In Zimbabwe we used to go into the mountains and along river beds to find dead tree stumps that have been weathered by the river erosion. Now I've moved here, I have a network of people who find the driftwood for me all over the place, from Knysna and the Eastern Cape, to Mozambique and Malawi, Namibia, Zimbabwe. Always wood that has been dead for a long time, decades if not centuries.
How long does it take to make your pieces?
There are two parts, the mental time and the physical time to make each piece. Sometimes it can take weeks or even years to see the potential shape of a piece of wood. Sometimes I get a beautiful piece of material, but I fail to connect, so leave it and after a while I see the potential within. Once that connection happens and I can see what is beneath that beautiful piece of wood, it can take a week or two to carve depending on the size. But sometimes a piece can take shape in just a day, another might take a month to finish.
What else goes into the production process?
Doing the sculpture is only half of the work and now my business has grown I have a team of four full time guys helping with the various stages of production, the preparation and finishing stages. I do all the carving to create the piece. First the wood has to be pressure-washed and fumigated, so there are no bugs in it. Then I will carve it with my tools. Finally it is carefully sanded and polished, some pieces also involve welding. It's very important to me to maintain the highest quality of each individual piece.
What does Spier Craft Market mean for you?
Spier has made a big difference. Not only can you sell, you can also work from there and this brings more clients who appreciate seeing how an actual piece is made, so brings me a new market. It's a good place to sell. Spier Craft Market is small, but it has the richest collection of talented people in one space, which you don't see in any other market in the Western Cape. People here are all masters of their field.
Boniface is usually to be found at Spier Craft Market on Wednesdays, working on new pieces, so why not visit us then and see how one of his stunning sculptures emerges from the natural lines of the wood.
Spier Craft Market is open 7 days a week from 10 till 5.30pm until the end of April, at Spier Wine Farm.