Craft Market at Spier, New Artists: Theresa Haslam
By: Sue Heathcock (2019-11-04)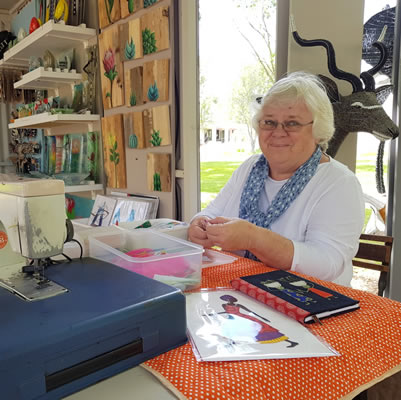 Theresa is new to the Craft Market at Spier this season. She makes a colourful range of cards, pictures and covered notebooks decorated with her distinctive design technique using freehand machine embroidery and applique.
How did you evolve this design technique?
I've always sewn, I've been doing markets for years and years, even when I was still working at my regular job. After I retired five years ago I was playing with my sewing machine one day. I'd seen a machine embroidery design that I liked – I'd never wanted an embroidery machine, but I wanted to try and reproduce it, so I played to see if I could do it just on my regular sewing machine, and it went from there. I discovered freehand machine embroidery, which allows me to move the fabric freely under the needle of the machine, so it's like drawing with my sewing machine.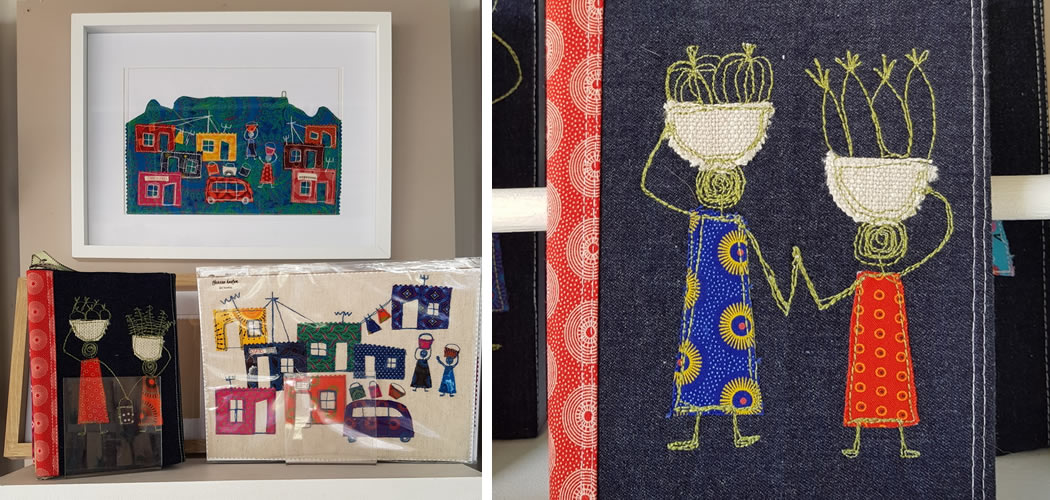 What happened next?
I was asked if wanted a stall at a market doing that style of product, so I had to quickly develop the technique and find more products I could use it on. I started with things like tea cosies, place-mats and table runners. Last year I started doing cards and they did so well that I decided to focus on the two dimensional pictures, cards and notebooks. It makes a huge difference to production, making items that are not going to be washed – I no longer have to do the pre-washing, drying and ironing before I even start making something.
What fabrics do you use?
I use mostly cotton as it all has to be ironed and a backing put on to make it stiff enough. It needs to end up feeling like a piece of paper. You can't easily use synthetic fabric, which tends to melt when you iron it. So cotton is the practical option.
Some of my traditional designs use a lot of shwe shwe fabrics. I use scraps that other friends give me leftover from their sewing, which would otherwise be wasted. I end up with small scraps that I then have to iron which is fiddly, but it means that I end up with a lovely variety of designs and colours without spending a fortune.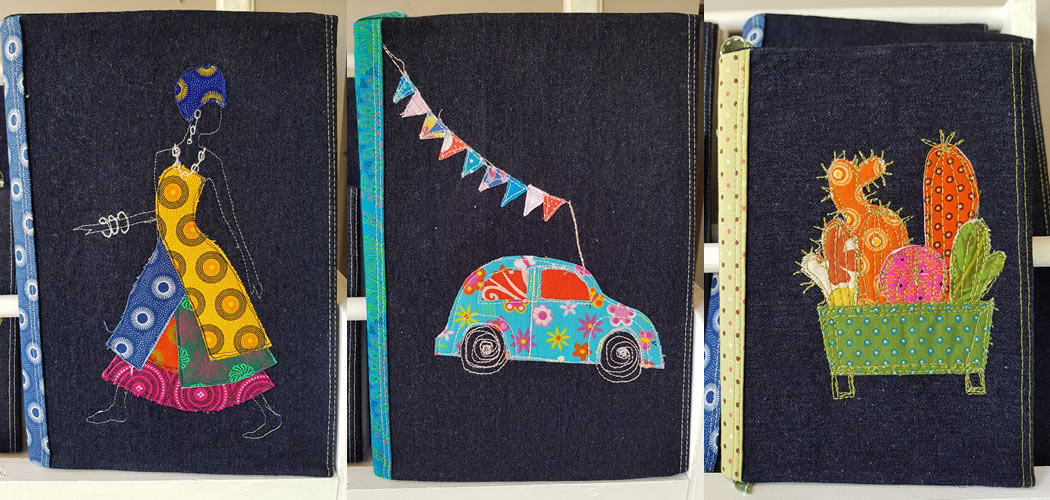 Where do you get inspiration for your designs?
I started doing floral designs, then started on the kombi in floral fabric. That design didn't feel right in shwe shwe so I made a taxi using those fabrics. My daughter-in-law said I had to do Table Mountain, so now I do that in shwe shwe too, I'm now doing ballerinas with machine embroidered tutus which my grand-daughters love. There are sausage dogs and sheep. Ideas just develop.
Browse through all Theresa's designs in cards, pictures and notebooks at the Craft Market at Spier. Open daily 10h00 to 17h30 on the lawns below the Wine Centre at Spier Wine Farm.