Craft Market at Spier, New Artists: Tavengwa Dahwa
By: Sue Heathcock (2019-11-29)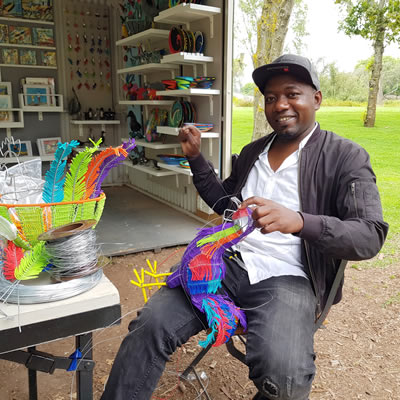 Tavengwa Dahwa uses colourful telephone wire to make a variety of animals and functional decorative items, from keyrings, paper clips and fridge magnets to chicken baskets and protea candle-holders. Then there's a bright range of birds, from peacocks, to pelicans, flamingos and cranes, and African animals, from ostrich to elephant and rhino. Meticulously crafted and full of life they are selling as fast as he can make them!
Tavengwa tells us more:
How did you learn your craft?
I learnt the skills when I came to South Africa in 2003. I couldn't get a job as I didn't have a work permit. I saw the guys making on the street and I learned by watching them doing it. I tried to improve on what they were doing, and I've learned more along the way, until I reached what I'm doing now. I make anything that you can think of in wire, using wire frames wrapped with telephone wire.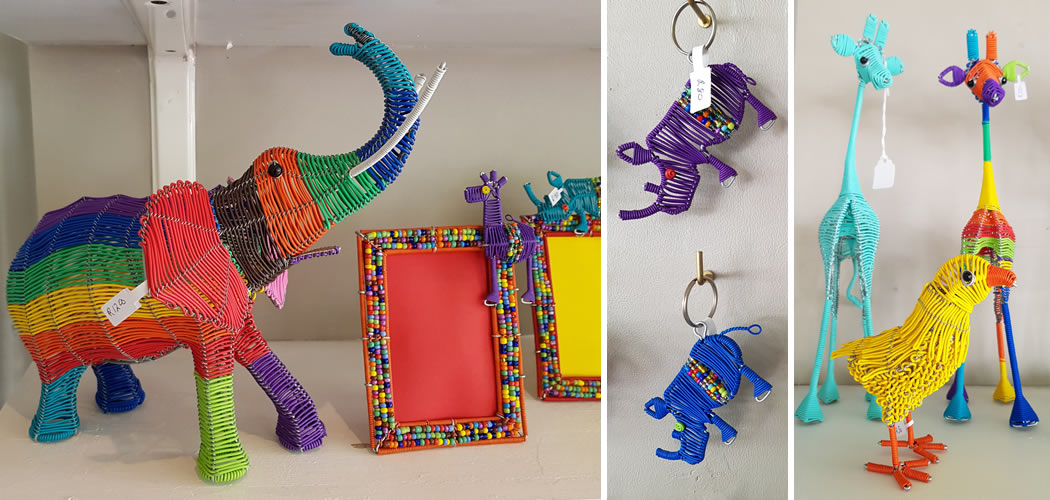 Where do your ideas come from?
My ideas sometimes come from looking at pictures, sometimes clients come with a concept and I develop it from there. Or I just come up with my own ideas, perhaps looking at a picture and interpreting it in my own way.
What do you like about working with telephone wire?
It's something different - there are a lot of artists working in bead and wirework, but telephone wire is a little bit different.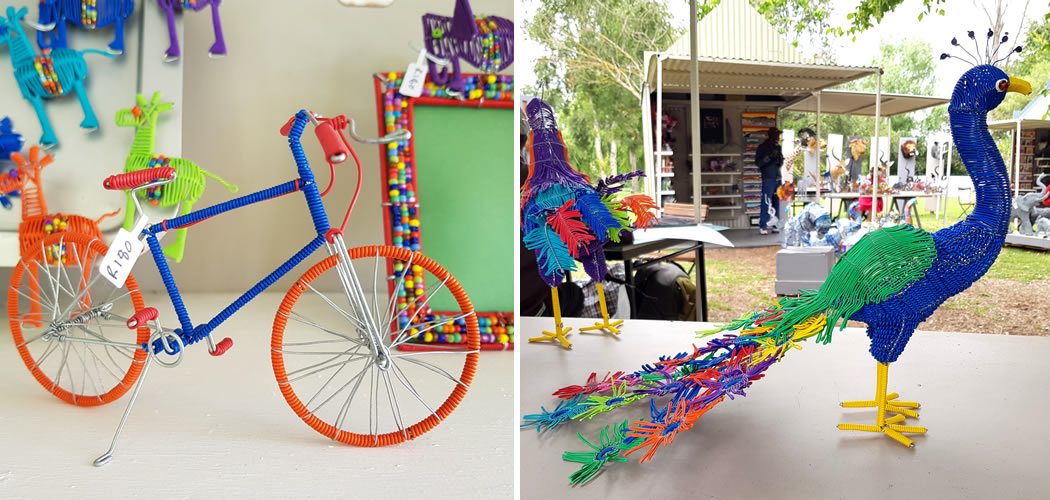 It comes in about 12 palettes of colour. Nowadays they produce more colours specifically for crafters as more people want it, our craft has created a demand. Before, we used to collect and pick out our materials from recycled telephone wire. It came in a limited range of colours, red, yellow and we used to get some speckled with white. Now the company that makes it produces so many lovely colours it gives many more possibilities.
Tavengwa is working up to bigger pieces like trophy heads but is being kept busy keeping his smaller pieces in stock as they are moving fast. And he's got more ideas cooking, so keep an eye on his display through the season to see what else he comes up with.
Find his work at The Craft Market at Spier – open every day 10h00 to 17h30 on the lawns below the Wine Centre at Spier Wine Farm.