Craft Market at Spier, New Artists: Meschell Beukes
By: Sue Heathcock (2019-12-05)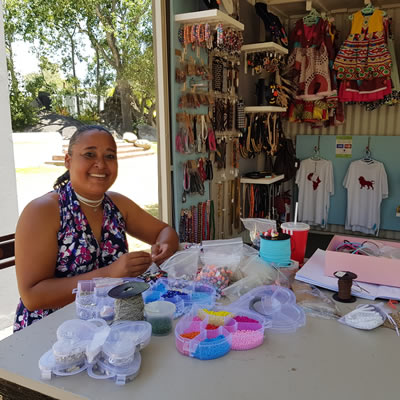 Meschell has joined the market this season with a varied range of jewellery, keyrings and wine glass charms featuring a selection of beads and charms.
Meschell tells us about how she got started in jewellery making.
How did you learn your craft?
I'd left my job and wanted to work from home. A friend of mine suggested I learned to make jewellery. I'd never done it before and didn't know where to start. So I went to a suppliers to buy some charms and beads to try, and just started making earrings and pendants. I found I actually really enjoyed it. I've been doing it now for four years and I'm improving every year. Now I'm doing more different products - bracelets, chokers, keyrings, it's been something that I really love and I know I can keep improving as I go along.
How did you start building your business?
I have a lot of customers from home, I do church events, ladies' events. Then someone told me about Spier. I thought that would be a great opportunity to be part of a craft market. I phoned Sue and took my stuff to show her. She was happy and I was over the moon. I'm very grateful as it was something that I'd wanted to do and it's the first organised market for me.
What inspires your work?
I look at the beads and put them together. I try different things all the time. I look for interesting beads - I found these clay beads, which you don't see often, and I've been selling such a lot of bracelets made with them.
How is being part of the Craft Market at Spier helping grow your business?
I'm learning what visitors are looking for. Sue gave me lots of ideas on what to make for this market, and now I know what people are looking for. Every time I go to my supplier I see new things and get new ideas of things to try. Sales are going very well and I'm very happy with that.
Browse Meschell's jewellery for yourself at The Craft Market at Spier, open every day 10h00 to 17h30 on the lawns below the Wine Centre at Spier Wine Farm.