Craft Market at Spier, New Artists: Lynn Barrett of Enchained by Design
By: Sue Heathcock (2019-11-19)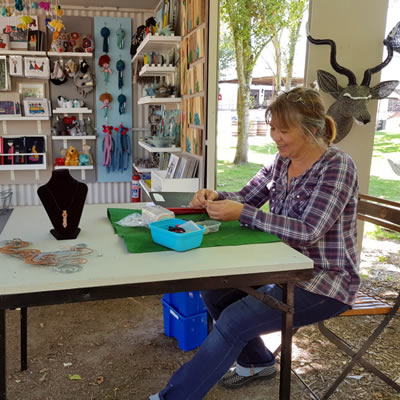 Lynn Barrett under the name Enchained by Design creates an intricate range of chain mail jewellery using copper wire and silver-plated copper wire. From earrings and necklaces to wearable chainmail clothing, she sees each piece as an appealing artform. She makes every link by hand so each piece is a unique labour of love. She tells us more about her work.
How did you start making your chain mail jewellery?
I actually started with clothing which was made with binding wire and I made every link myself. I've got that kind of patience. It started about fifteen years ago when I bought a mannequin to make a lamp. I mosaiced her body, cut parts out and put lights in her. I decided she needed a dress, and as mirrors go with metal I decided to make the dress out of metal. That one took me eight months to make – it was a long dress. Everybody thought I was mad! That's when it started. Every now and again I'd make a piece of jewellery using the chain mail techniques I'd learned and someone would want to buy it. The dress is wearable (everything I make can be worn), it's size 34, I checked every measurement.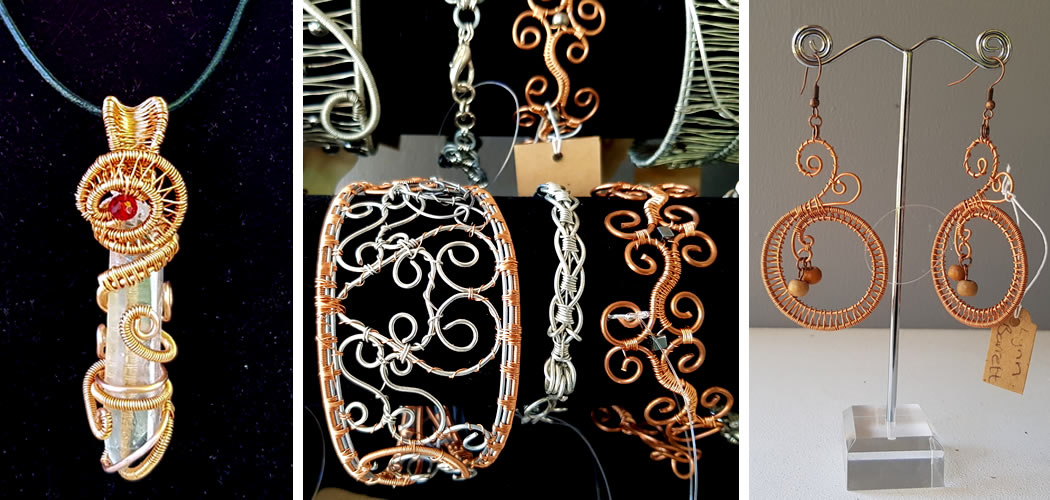 What do you love about this artform?
I do carpentry, upholstery, sewing, I've got a wallpaper business, , I do portraits in pyrography with a machine that burns images into wood, so I'm very busy in all sorts of areas, but the jewellery-making has stuck. I like it. It's pretty. Most of the time I'm covered with cement or paint and this is my pretty, ladylike section of life.
Where do ideas for your designs come from?
I'm self-taught. I will sit and read books, watch YouTube tutorials, ask questions, then I'll go and do. Most of the time I just get ideas and sit and fiddle till I've got something. I love how my chain mail jewellery looks old-fashioned, the medieval feel.
Why did you decide to use copper?
I started with plated silver. But one day I was visiting a friend and her dog had ripped out her telephone cables from the ground and the house walls. It was running around the garden playing with 24 metres of cable and she didn't know what to do with it. I took it home and stripped it and it was obviously copper. So I started using it for my pieces. Now I get most of my copper from friends or electricians' leftovers. The thin binding wire I buy from a jewellery supplier. I love the colour of copper, both when it's fresh and also when it oxidises and goes dark, it ages nicely.
For those who have a problem wearing copper (their skin reacting with the metal to leave a green mark) Lynn uses silver plated copper as an alternative.
Visit The Craft Market at Spier to see and try on Lynn's unique hand-crafted chain mail jewellery. Open every day 10h00 to 17h30 on the lawns below the Wine Centre at Spier Wine farm.
https://www.facebook.com/lynnbarrettdesign/