Craft Market at Spier, New Artists: Jutta Holzapfel and Jennifer Carbutt of SharpSharp Belts
By: Sue Heathcock (2019-12-23)
Jennifer Carbutt and Jutta Holzapfel joined the market this season with their collaboration Sharp Sharp belts. They each also have their own ranges – Jennifer's Kasuga range includes hats, feather jewellery and bead jewellery, Jutta is making jewellery with semi-precious stones and beads. They tell us more of their story: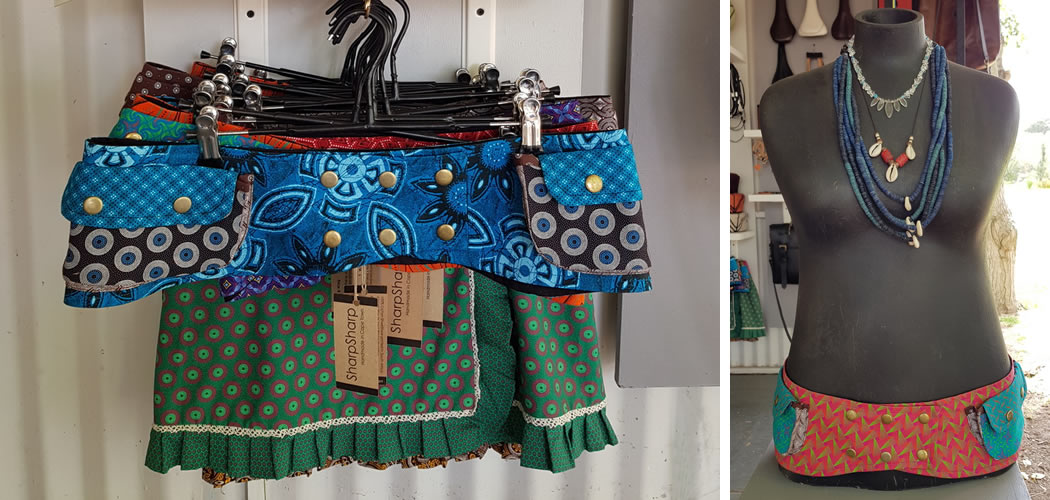 Jutta
I've known Jennifer forever, since we lived in Amsterdam in the mid 80's. Jenni made clothing and hats amongst other things and I performed on the street as a stilt walker, as well as printing posters and t-shirts with my partner. Jenni and I were part of a co-op shop run by a group of creatives - much like the Craft Market at Spier - but housed in a building on one of Amsterdam's shopping streets. Jenni asked me to teach her to walk on stilts, and I asked her to teach me how to sew in return. That's how our friendship started.
Jennifer
We did performances together with a company near Amsterdam. Then I became a professional stilt walker for 12 years around Europe – Jutta and her partner returned to South Africa in the 90s – I was busy with the stilts with my French partner. Even though I always knew I would come back home again, it took a long time to get back. When I came back we had the idea of doing a collaboration, something sustainable, to create work for people and pass on skills.
Sharp Sharp belts collaboration
Jennifer
This belt pattern I was already making in Amsterdam. We both love shweshwe and African fabrics, so we thought to make it with those. We support the Sewing Café, a life skills training project in Masiphumelele. People come for six months and learn English, basic computer skills and to sew. After 6 months there is an inspiring graduation ceremony with a fashion show of the garment they've made. They are presented with a sewing machine, with the idea that they will be able create their own work. Some stay on at the Sewing Café, which is also a CMT - cut, make and trim sewing studio. Our SharpSharp belts are made for us there by some of the graduates of the programme and I'm also training two people to work with me on my feather jewellery.
I studied fashion at Cape Town School of Fashion Design in Wynberg in the 80s – old school pattern cutting. Kasuga is my label, I've used that name since I finished fashion school, when I was selling clothing on Greenmarket Square. Kasuga has two meanings, in kiSwahili it means parrot, in Japan it refers to a beautiful Shinto Buddhist shrine and mountain. Japan and Africa are both great influences in my work, the serenity and minimalism of the one and the exuberance and colour of the other.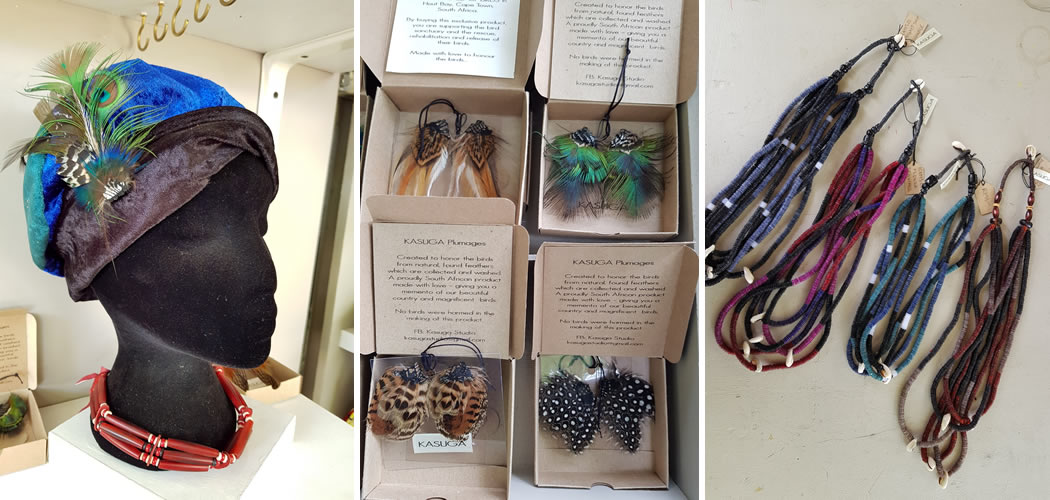 I work with feathers and beads and also make hats. The feather work is my absolute passion. I collect feathers at The Chapmans Peak Caravan Park and at World of Birds in Hout Bay, so I get exotic feathers like parrot, scarlet ibis, flamingo, cape eagle owl. They are all collected feathers, found when the birds are moulting. I sort, clip and wash them then freeze them for 72 hours to sterilise the feathers. Then I start creating. It's about using something that is of itself incredibly beautiful, to create something else new and beautiful.
I get inspired by nature and translate that into what I make in different ways. For example in my repurposed sequin necklaces – I have the sea sequence, the rock sequence, flower sequence - the colours are inspired by those things in nature. My latest range is the Minimal Masai collection made from cord, ostrich leather and aluminium cable crimps – a contemporary amulet, to hold the polarity of light and dark in balance in your personal space.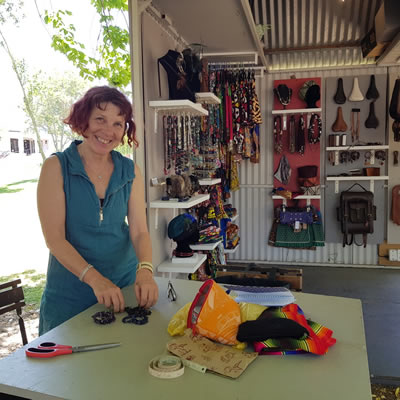 Jutta
I work as a Kinesiologist in private practice, and the idea was to make some products that could go out into the world and supplement my income. When I saw Spier market was looking for artists we applied with our belts. Sue asked what else we made and Jenni had all her jewellery and hats.
I've always made things, usually craft or performance costumes, creating outdoor performances both for children and adults. As a member of site-specific performance groups, both in the Netherlands and in South Africa for over 30 years, many creations have taken shape.
When I started taking my turns here at the market I wanted to make something while being there and started making necklaces and bracelets, harnessing my love of lava rock, coral and semi-precious stones.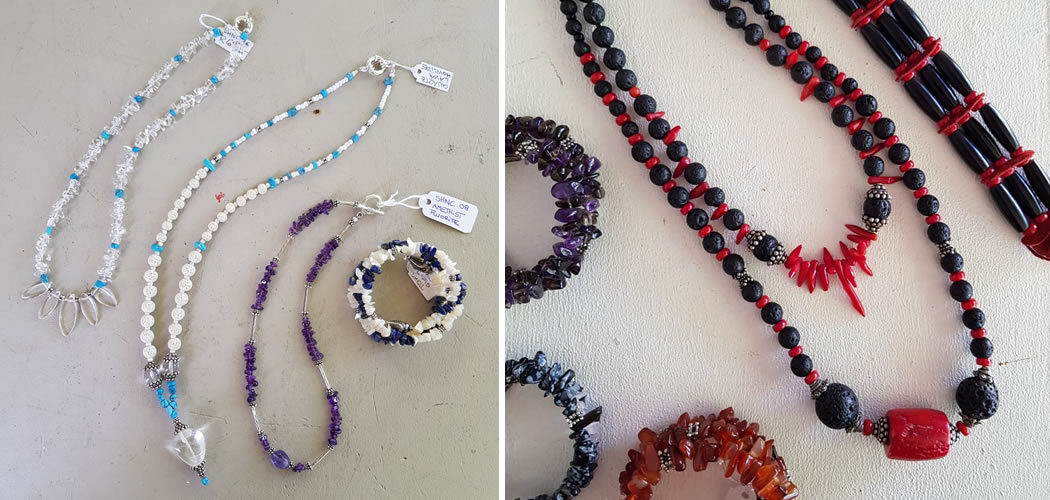 I love that they carry the energy of nature and the elements, the fiery energy of lava and that they are fragments of the World's memory. I cleanse my stones before I work with them, because I'm aware that they absorb the harsh force of the mining process. Different stones carry different energetic qualities, and people that are attracted to them sub-consciously know about the holding of those qualities. Or maybe the jewellery is just pretty to their eyes.
Find Jennifer and Jutta's work, and their SharpSharp belts, at The Craft Market at Spier, open every day 10h00 till 17h30 (with extended hours over the holiday season) on the lawns below the Wine Centre at Spier Wine Farm.