Craft Market at Spier, New Artists: Elita Brooks
By: Sue Heathcock (2019-12-11)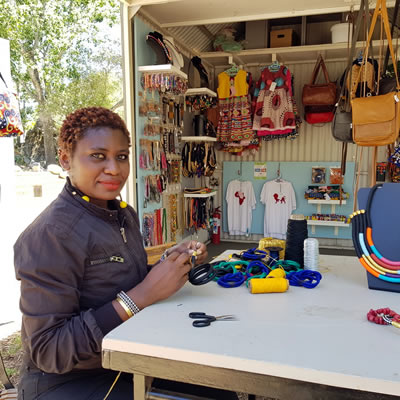 Elita Brooks makes striking costume jewellery with an African twist from rope, cotton, semi-precious stones and beads. Her range of necklaces earrings and bracelets are the perfect statement pieces to dress up a plain dress or top. She tells us more about her work:
How did you get started making jewellery?
Back home in Malawi I learned to do the weaving pattern on straw when we used to make straw baskets at school. It's the same weaving pattern that we use on rope now to make jewellery. When I first came to South Africa 11 years ago I met a friend who introduced me to a company who was making this rope jewellery and I started working with her. Some of the techniques I already knew from weaving baskets, other techniques were new to me.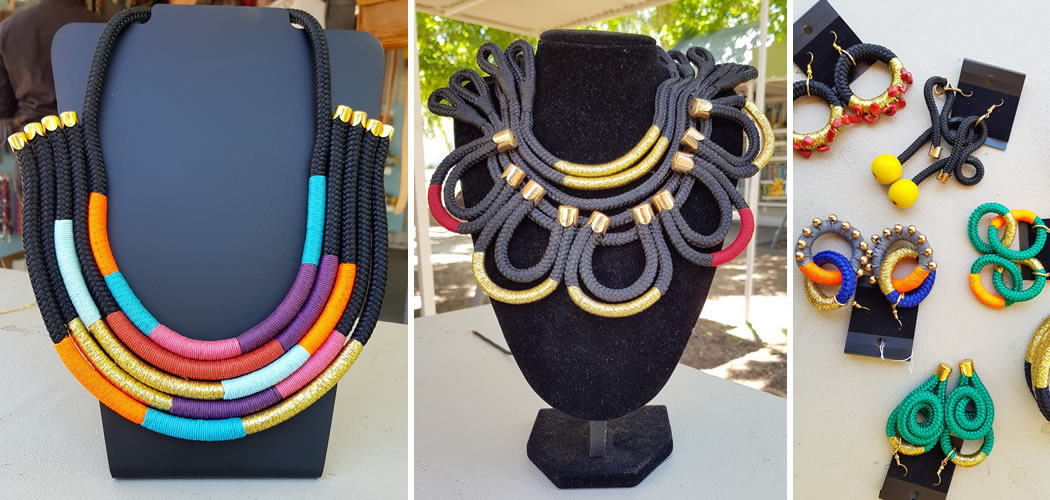 How did you start making your own designs?
I started making my own designs last year September. Sometimes new ideas for designs just come into my mind – like the long rope with crystal loops. Some ideas I get from researching on the internet for ideas. Some designs are inspired by old African pieces, traditional culture. Others are more modern and contemporary.
What materials do you use?
I'm using the nylon ropes that are used for yachts and boating which come in various thicknesses and colours. I use waxed cotton, gold thread and semi-precious stones to wrap and create the piece. I mix whatever I can find that will make it beautiful.
What plans for the future?
I currently make earrings bracelets and necklaces and I'm going to start making other products like flower baskets, I'm building the empire! I sell at some weekend markets as well as Spier. I'd like to open my own shop some day. Spier is working well for me, doing the magic!
See and try on Elita's jewellery at The Craft Market at Spier. Open every day 10h00 to 17h30 (with extended hours over the holiday season) on the lawns below the Wine Centre at Spier Wine Farm.