Craft Market at Spier, New Artists: Caitlin Hague aka Caits of Stanford
By: Sue Heathcock (2019-11-21)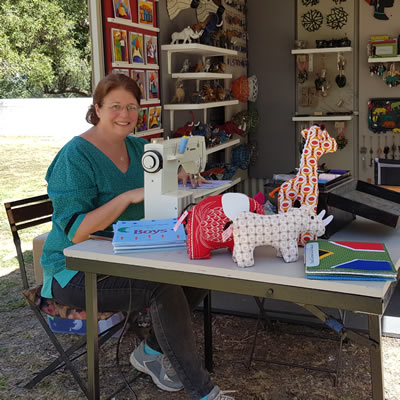 Caitlin Hague aka Caits of Stanford makes a range of educational fabric books and soft toys. Designed for young children from 6 months to age 6, the educational books and textured African story books make rewarding gifts, and are ideal to keep kids busy and engaged on long car journeys and flights. Caitlin tells us more:
What is the idea behind your range of books?
I am trying to make a product that is not just fun for kids but also educational. It's not about being a design outlet for me. I've been sewing for 45 years, I was in fashion for years, for me this is about giving something back.
Tell us more about the books?
The books are structured as six books that take a child from the age of six months to six years. Each book targets very specific activities and skill-sets needed at that age point. For example there's no point asking a three year old to tie their shoe laces, they need to master various skill sets before they can move on to that. At three they are understanding how things fit together, that they can be removed and put back. So their book covers numbers and puzzles.
I sell all the activities as individual pages, so you only have to buy one book. Then you just add pages for each age level. Some of the pages can be customised as special orders too.
The books are made of felt, so they are very easy to play with texture-wise. They are not washable but can be cleaned with a damp cloth.
How did you get started?
I studied fashion design in Cape Town, then London and in Paris. I lived in London for 14 more years and worked in bridal wear and high-end fashion. When I came home I wanted to simplify my life, so I started a sewing business and it grew from there, sewing curtains and blinds, wedding and matric dresses, alterations or copying a favourite skirt or shirt.
I'm an older mother, I had my second kid when I was 42. I was horrified at the toys that were available. Either it was cheap rubbish or thousands of rand for Fisher Price. I didn't like that my kids' toys were either going to cost a bomb or were likely to break in five minutes, so I started asking the kids what they wanted to play with. That's how it started.
The animals were similar. A friend wanted something to give her American mother-in-law, so I made her a giraffe. Someone then asked for an aardvark. It built from there.
What feedback have you had recently?
I heard back from a German couple that bought a book featuring a ladybird - the spots are on poppers and come off, then there's a zip on the ladybird's back that you can open and put them inside. They said they'd never had such a peaceful flight home to Germany. Their child played with it for hours. The books are perfect for long plane rides and car journeys.
See Caitlin's books and soft toys at The Craft Market at Spier. We're open everyday 10h00 to 17h30 on the lawns below the Wine Centre at Spier Wine Farm.
https://www.facebook.com/CaitsofStanford/