Craft Market at Spier, New Artists: Bomkazi Dunga of BomBom Clothing
By: Sue Heathcock (2019-11-11)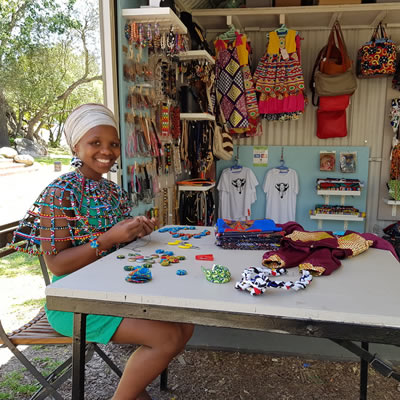 Bomkazi is an up and coming designer with a strong sense of innovative African fashion. She uses traditional African fabrics in interesting ways to make brightly coloured and patterned fabric jewellery and accessories. Her gorgeous peplum belts are intended to be worn over a dress or even jeans to bring some bright African life to an ordinary outfit and her sculptural neck-pieces add a sense of occasion too. There are earrings, necklaces and bracelets in a variety of styles, plus bright fabric bags with inner drawstrings, headwraps and unisex children's tracksuits. Keep an eye on Bomkazi's display this season as she's full of ideas for new pieces.
Bomkazi tells us more.
How did you get started?
I did my sewing course in 2010 at a training centre in Khayelitsha. I started off making school uniforms, but then I decided, "let me do something else and pour out what is in my heart."
I wanted to make new different things that are unique, that nobody else is making.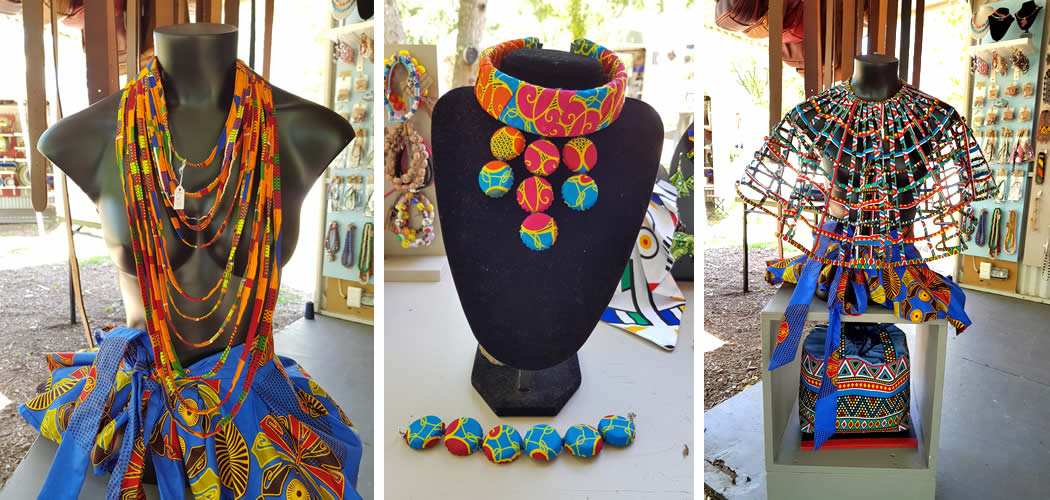 What inspires your pieces?
I'm inspired by the African prints I work with – they give me ideas for different things. Sometimes I just imagine something then look for the fabric, then I'll make it.
For the neckpieces, I saw the traditional ones that are made with beads and I thought I can do this with fabric…. but how? It took a very long time to work out the best way of doing it. You have to keep the shape and the blocks even, but I ended up finding the easiest way of making a design that is even and keeps its shape.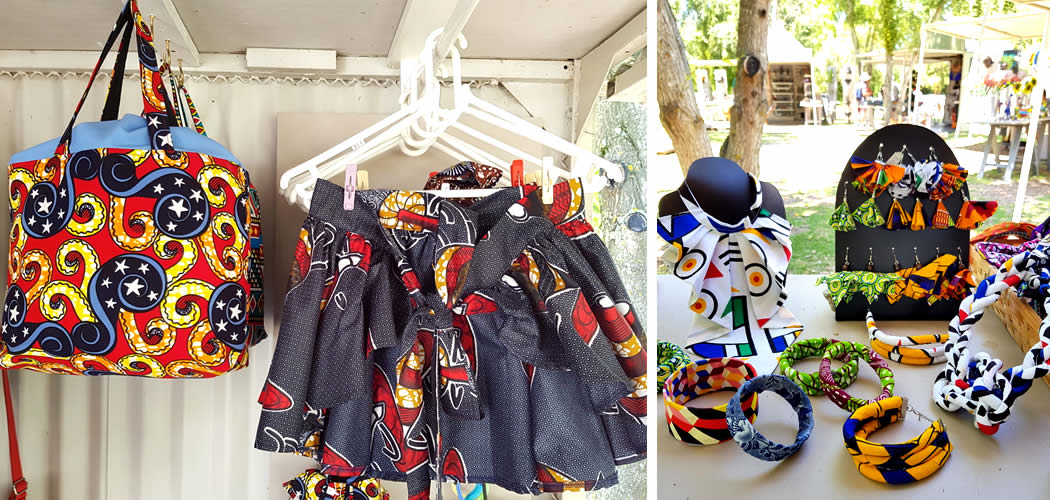 What direction do you see yourself going with your business?
My company is called BomBom Clothing. My dream is to have my own shop eventually to sell my style, my African clothing and accessories. For the Craft Market at Spier I'm focussing on the accessories, but I also make clothing, dresses, men's trousers and shorts, so the shop will have the full range.
Visit The Craft Market at Spier to see and try on one of Bomkazi's individual pieces to get your own African sense of style. Open every day from 10h00 to 17h30 on the lawns below the Wine Centre at Spier Wine Farm.
https://www.facebook.com/Bom-Bom-Clothing