Craft Market at Spier, New Artists: Alex Kibalenko of The Modest Toolbox
By: Sue Heathcock (2019-10-29)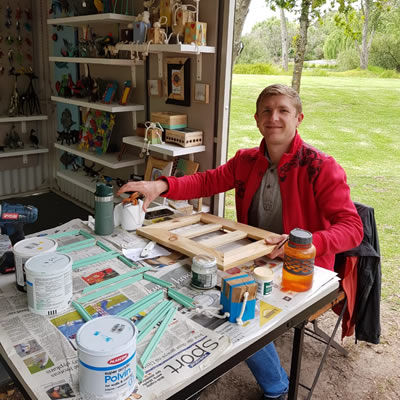 Alex Kibalenko of The Modest Toolbox upcycles pallet wood and other woods into a wide range of gorgeous gifts and home décor pieces. He tells us more about his work.
What are the products that you sell at Spier Craft Market?
My product range includes:
"Block Buddies", adorable animals made from upcycled pallet wood and rope, that can be used as book ends, door stops, teacher's gifts, or simply as display pieces.
Positive Affirmation Boxes, made from upcycled Oak that has been soaked in wine barrels, that offers a positive, joyful start to every day with whatever affirmation you need to hear.
Photo Frame Jewellery Boxes that hold two photos in the lid, with pyrography and painted patterns that mirror the vibrancy of the African print pillow on the inside.
Picture frames in various shapes and sizes, also hand-painted and burnt with African-inspired patterns.
How did you learn your skills and craft?
I am Ukrainian, and back home we learn a lot of practical skills at school level. My family are all very hands-on, practical people and I have always enjoyed working with my hands. I am actually a professional drummer and percussionist. After getting married in 2015 (my wife is South African), we settled down in Cape Town. But the employment opportunities in the music field were very limited. I started making a few random things from wood that we needed at home. Soon, family and friends were asking if I could make things for them. Suddenly, purely by word-of-mouth, I was creating custom-designed furniture and decor for people from all over! YouTube is my constant companion, and I enjoy figuring things out and learning. I have come a long way!
What inspired your current range?
I wanted to create a line of small, hand-crafted gifts that truly reflect the beauty and uniqueness of South Africa - the country that I now call home and have loved from the moment I first set foot here. Each piece that I make is special in the sense that the rustic, natural character of the wood gives it a unique voice. To me it feels like a living, breathing thing...
Tell me about your name The Modest Toolbox, where did that come from?
My wife came up with the name when we decided to market my products and services. She felt that it really captured not only my humility, but also the reality that the tools I started out with were very modest, not only in number but also in quality! It also aptly describes my preferred medium - upcycled pallet wood.
You can find Alex on Facebook https://www.facebook.com/TheModestToolbox and at The Craft Market at Spier. The market is open daily from 10h00 to 17h30 on the lawns below the Wine Centre at Spier Wine Farm.