Craft Market at Spier 2020 - Mosaics - Tafara Karidza
By: Sue Heathcock (2020-02-07)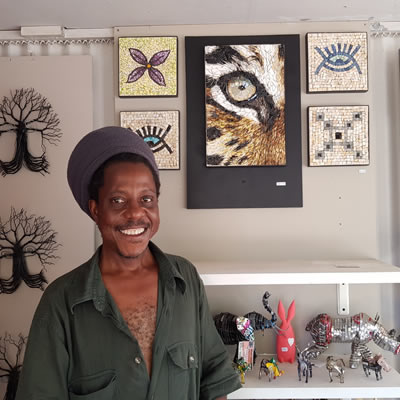 Tafara Karidza has long been part of The Craft Market at Spier with his 3D township paintings. For the last seven years he has quietly been developing a new set of specialised artistic skills which have been on display at the market for the first time this season – mosaic work. He tells us how he learned the art.
How did you get started in mosaic work?
I applied to the three year mosaic programme with the Spier Arts Academy in 2013. The selection process is quite intense. You have to be able to see graduations of colour, colour ranges. They give you a practical test to see how you use your hands, they select for potential. It's a very comprehensive programme. You do art history, drawing classes, the business aspect and the actual mosaic work. Then you apprentice. I graduated in 2015.
After graduation they offered us a studio space for a year within the academy. You're freelance and they give you commission work producing mosaics based on artworks by various artists, but you can also take on your own work. It's an incubation period to help you establish yourself, then the idea is you move on and start your own studio.
Now I'm developing my own style, my own original, independent work.
Tell us about your new mosaic work on display at The Craft Market at Spier
The eye mosaic is the second of a series I'm working on of big cats. The eyes are ceramic, natural stone and coloured glass, which gives the glowing quality to the eye. (The first eye mosaic sold at the market earlier this season) It's an ongoing series, I have some more to come. I've got a lot more plans, images that I want to work on as time allows.
What do you enjoy about mosaic work?
It's an unlimited medium, there's such a wide range of materials you can use - from natural stones, to man-made stones, ceramics and coloured glass. I love to mix materials and mediums. Mosaic is an eternal art, they are still uncovering ancient mosaics that have been buried for millennia and they are still beautiful. It's art that lives forever. I'd like to express myself more and more in this medium.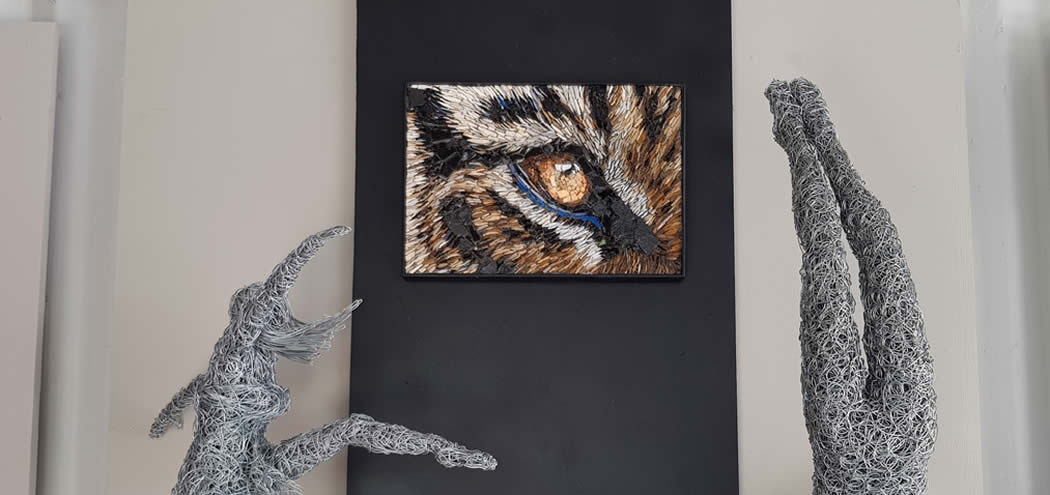 What other mosaic work are you involved in at the moment?
I'm overseeing a project for the Spier Arts Academy producing a large mosaic installation over two walls for a bathroom. I'm overseeing five apprentices and five graduates of the mosaic programme. We're using a reverse technique, so all the pieces get laid down upside down and then transfer it onto the wall, so you only see the final effect once it's installed. We work on it in sections at the studio and then it will eventually be installed by a very experienced guy once all the sections are complete. This is my fourth project to lead, so I've gained valuable hands-on experience. It's not just the mosaic skills but people skills too, leading a team, and project management skills to work out amounts of materials needed, source the right colours, and scheduling the whole process.
See Tafara's mosaics on display at The Craft Market at Spier. Open every day 10h00 to 17h30 on the lawns below the Wine Centre at Spier Wine Farm.