Buy From Our Craft Artists Online At CraftArt.Africa
By: Sue Heathcock (2020-09-04)
We're excited to introduce our beautiful new online sales platform CraftArt.Africa! This is an online shop with a difference – you get the same personal service that you know and love from The Craft Market at Spier, you can buy fabulous one-off artworks and sculptures, even commission a custom designed piece, but now you can do it from anywhere in the world!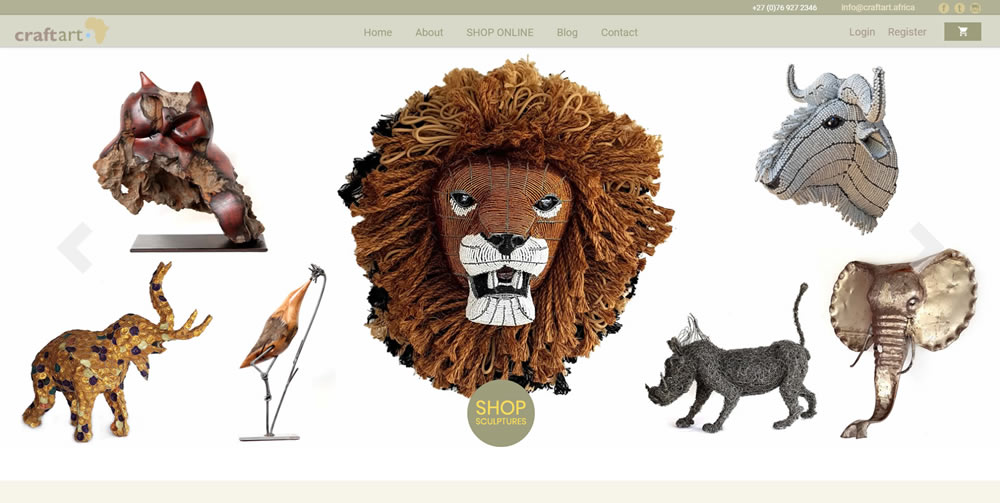 With CraftArt.Africa you can finally get hold of all those beautiful things that you didn't have space for in your suitcase. No more regrets when you get back home and a blank wall reproachfully looks made for that beaded wirework elephant or recycled metal trophy head that you fell in love with. And because we are the same team with the same fantastic artists, the quality, creativity and innovations are at the same high level as our carefully curated market. We ship worldwide using a specialist air freight shipping service for reliability.
CraftArt.Africa is designed for South African locals too - shop for original Christmas gifts, beautiful décor pieces, fabulous jewellery, stocking fillers and corporate gifts with a difference. You'll discover a wide variety of styles and materials at reasonable prices.
Browse our online shop for Sculptures, Jewellery, Art, Décor and Accessories and let us know what you think – we'd love to hear your feedback. And please support our artists in this new adventure - shop, share and follow us on social media: @craftartafrica on Instagram, Facebook and Twitter.
The Craft Market at Spier will be opening for a new summer season mid to late October – dates to be announced soon. And we can't wait for South Africa's international borders to re-open so that we can welcome all our overseas friends face to face again!