A Visit to the Craft Market at Spier
By: Kit Heathcock (2017-12-27)
The Craft Market at Spier this season is a feast for the eyes. The new location for the market on the picnic lawns below the wine centre has allowed a creative new design, reminiscent of a village kraal or boma – the units are arranged in a circle around a spreading tree that shades tables where the artists sit and work. A herd of animal sculptures in the centre attracts visiting kids who rush to hug a beaded lion, or a cheeky wire monkey. And instead of palisades keeping the animals in, a series of vertical display panels show off the colourful trophy heads that the craft market has become known for: individual art pieces made from a variety of materials, from recycled tin to wire and bead.
The whole scene is vibrant with colour, but peaceful too, several of the artists quietly working on their latest pieces or chatting with visitors about their work. The artists themselves are enjoying the new space: "It feels like family, we can all see each other and talk to each other while we work," says Nicky Mayoyo as she threads beads onto one of her jewellery pieces.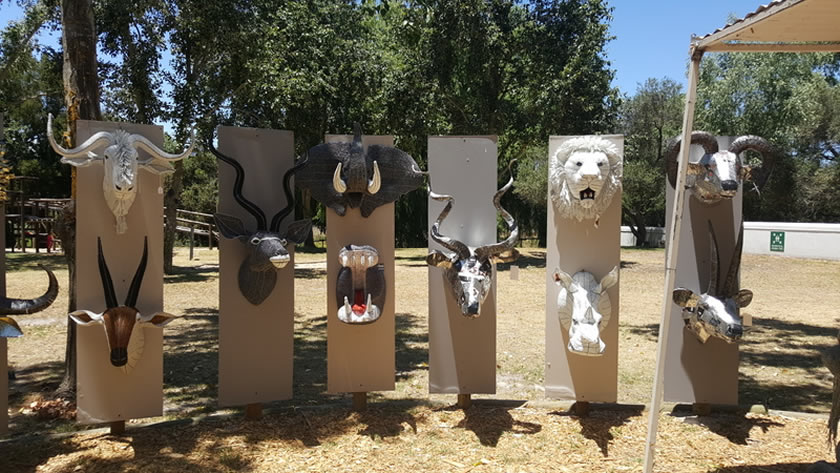 As well as many familiar faces and favourite styles of work from last season, several new artists have joined the market this year. Beaven Mutapati of Imvelo makes elegant room lights from lengths of pvc pipe, transformed by intricate designs. Then there are some fun chandeliers and wire and bottle top or wire and pebble animals and numbers from David Manando. Cyclists will love the handcrafted leather saddles and handlebar covers made by McDonald Muringani of Mukanya Creations. And there's a gorgeous range of crocheted animals and dolls by Adela Tambara of Busy Hands.
All the artists have been busy dreaming up new ideas and crafting new sculptures over the quieter winter period, as well as smaller take home pieces, and as the holiday season progresses more and more sculptures and trophy heads are being shipped to homes in Europe and the US, Australia and Asia, as overseas visitors find the perfect piece of Africa to decorate their home.
Make time over the holiday season to pay a visit to Spier Wine Estate and wander the market with one of the new wire shopping baskets. It fills up all too easily!