A Visit to Spier Craft Market
By: Kit Heathcock (2017-01-01)
The shady avenue adjoining the car park at Spier Wine Estate is full of surprises. A herd of stripey beaded giraffes capers beside the agapanthus plants, a prowling wire leopard patrols the pavement, a headless giraffe, taller than any of the visitors strolling past, waits to be completed as the artist works on its head nearby. This is the Spier craft market, a vibrant collection of art pieces, all hand-made locally.
The level of work is consistently high, more gallery quality than regular market offering, with huge art pieces that are shipped to international collectors, as well as small take-home pieces for casual visitors. Market facilitator, Sue Heathcock, with her long experience of the South African craft scene and of curating major exhibitions, has collected together an impressive range of artists who don't just make the same old souvenirs but create and innovate. There are beaders trying out new techniques, recycled wire artists finding new ways of using the different scrap metals that come their way. There are textile artists, ceramicists and jewellery makers, painters and more. You notice the individuality in the way the animals look alive, each one with a touch of attitude, like the jaunty warthog looking as if it just trotted out of the bush, despite its colourful stripes!
And what makes this market even more special is that on any given day you'll find a selection of the artists at work on the benches and tables between the stalls. So you can watch as an azure bead dolphin takes shape, chat to the maker of the piece you covet, find out more about their story and get an understanding of the techniques involved. Sue has been running the market since 2005 and has modelled is as a sustainable social enterprise: for some of the participating artists the market serves as a business incubator, while a number of them are already successful entrepreneurs, with work in collections all over the world. "I look for quality pieces genuinely hand-made by the person selling them, innovation, technical expertise and that little something extra that is impossible to articulate. I make sure there is something for every price point from cheap and cheerful to limited edition art pieces.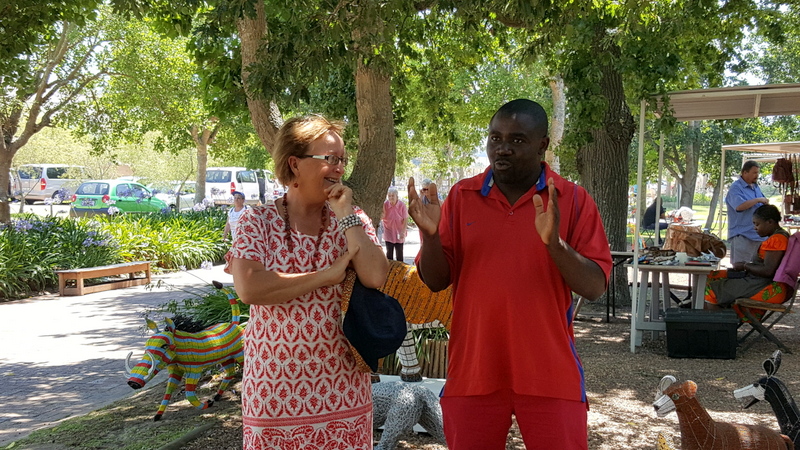 The eight market booths are cleverly tucked along the lakeside among willow and coral trees and it's a pleasure browsing the whole way along the beautifully styled displays, which change often as pieces are sold and new ones made. The only difficulty is deciding which of all the varied pieces on offer to take home. Cheeky metal meerkats, appealing beaded penguins, trophy heads in many different guises and techniques from bottle-top hippos, to patchwork rhinos and elegant bead zebras.
The market runs each year from October to April and is open 7 days a week, weather allowing. We'll be talking to some of the artists in more depth here over the next few months so watch this space! And visit the market yourself at Spier Wine Estate from 10am till 5.30pm daily.
This article is by guest writer Kit Heathcock. She writes regularly on food and lifestyle subjects for Sunday Times Neighbourhood, among other publications, and is looking forward to exploring Spier Craft market and chatting to its artists over the next few months.